The Glendale native, Jessie F. Brown, son of
Joseph A. (Joe) and Margaret Elizabeth (Mollie) Crocker Brown
, was born July 17, 1877. Joe was
Postmaster
at Glendale, 1901-1919. Jessie's sister, Blanche, served as
Postmaster
for a short while following their father's death. Census records show that Jessie had eight siblings, 2 unnamed dead, 6 living; William C., Eddie F., Albert A., Blanche, Mintie and Mallie Brown.
He married Miss. Katie Pearl Burnett from Laurens and they became the parents of at least three children. Jessie owned and operated a meat/vegetable market for a number of years in the Glendale area.
The 1910 Glendale Census shows they had been married 5 years.
The household was listed as;
Jessie F. Brown, 22, husband, market owner/operator Wife; (Katie) Pearl 20.
Their children; Mattie J. 3. Joseph P. 2. Dean H. 5 months.
The 1920 Glendale Census listed the household as;
Jessie F. Brown 34, husband, farm owner/operator. Wife; Katie (Pearl) 32.
Their children; Mattie J. 13. Joseph P. 12. Dean H. 10 *Furman Jr. 8
(Asterisks indicate more information to follow.)
Excerpts from the obituary of Jessie Furman Brown Sr. published September 21, 1955;
"Jessie Furman Brown, 68, died Monday night at the General Hospital. Funeral services will be held at the
Glendale Baptist Church
by
Rev. Timothy H. Hottel.
Burial will be in the
Glendale Cemetery
. Pallbearers are;
Farrell Sams
, Ed Walden,
Clarence and Paul Crocker
,
John T. Varner
and Harry Anthony.
He is survived by his wife, Mrs. Kate P. Brown; three sons, John F. and Dean H., both of Spartanburg and J. P. of Asheville, N. C; two sisters, Mrs. H. M. Branch and Mrs. Blanche Crocker, both of Glendale."
Excerpts from the obituary of Katie Pearl Burnett Brown published November 27, 1963;
"Katie Pearl Burnett Brown died in the Spartanburg General Hospital at the age of 76. She was a native of Laurens County and a daughter of the late Joseph H. and Mattie Burnett. She lived most of her life in Spartanburg County and was of the Methodist faith. Her husband was Jessie F. Brown who died in 1955. Survivors are; three sons, J. F. Brown of Asheville, Dean Brown of Spartanburg and John(Furman) Brown of Baton Rouge; 14 grandchildren and 22 great grandchildren."
Both are buried in the
Glendale Cemetery
. Their grave marker.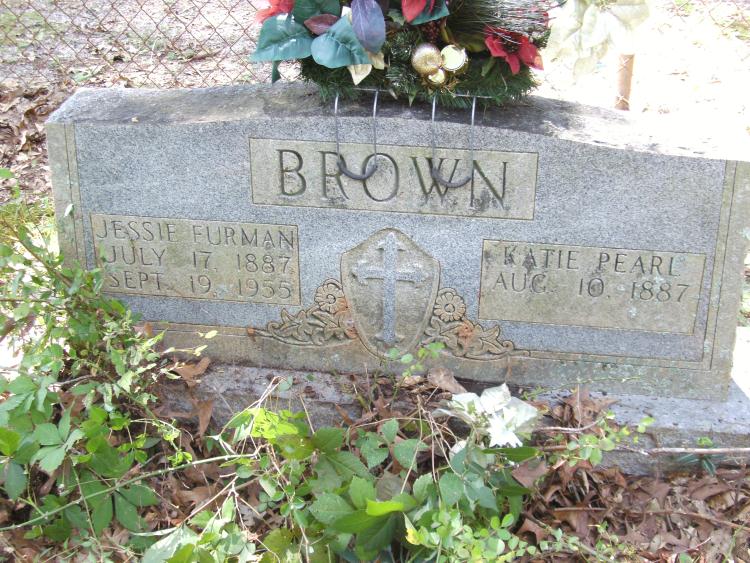 Ada Louise Brown, the wife of John Furman Brown, died and was buried in the
Glendale Community Cemetery
.
Grave Marker; Ada Louise Brown-February 26, 1911 = November 26, 1963
The grave marker also has the name of her husband inscribed as;
John Furman Brown-September 13, 1911 = no date of death is inscribed. The
Spartanburg Herald
death index shows he died at the age of 65 in Louisiana in October 1976.
Federal Census records and
Spartanburg Herald/Journal
obituaries, courtesy of Spartanburg County Library. Census dates and names were recorded as the Enumerator understood the informer which oft times led to errors. I have tried to copy the census as recorded. Where such errors occur, I apologize.
Jessie Brown's mother, Margaret Elizabeth (Mollie) Crocker Brown, was the great Aunt of this writer, which makes Jessie my second cousin.
More stories about the Brown brothers forthcoming.
Clarence E. Crocker
, July 2012