James Hicks Lovelace
was appointed Postmaster on October 19, 1949 and served until May of 1971. A native of Spartanburg county, he was the son of George Durham and Melissa Blackwell Lovelace. He married Miss. Cecile Coats of Glendale and they were the parents of four children. He was a member of the Glendale United Methodist Church where he had served as a S.S. teacher, former S.S. Superintendent, a member of the Glendale Masonic Lodge, the Woodman of the World and the Glendale Ruritan Club, serving as President for one term. He was a veteran of WW2 and retired as a Lt. Col. of the USAF. He and his family lived in their home which was located just a short distance above the old Glendale Ball Park on the Glendale/Country Club road.
His obituary published in the Spartanburg Herald & Journal Wednesday, January 16, 1974, stated that: "Mr. Lovelace died at 3;30 PM, January 15, in the Spartanburg General Hospital following a brief illness. He was 67 years of age. He was survived by his wife, one son; Stephen P. Lovelace, three daughters; Mrs. Susan Sears, Tulsa, Okla, Mrs. Jane Mauk, Montgomery, Ala. and Mrs. Kay Gowan, Spartanburg, S.C. He was also survived by six sisters; Dr. Roberta Lovelace, Columbia, S.C., Mrs. Ruth Lane, Savannah, Ga., Mrs. Ada Kinsey, Phoenix, Ariz., Mrs. Janet Phillips, Mrs. Hortense Pack and Mrs. Alice Williams all of Spartanburg, S.C. Two brothers; Wallace G. of Spartanburg, S. C., Hollis E. of Greer, S.C. and eleven grandchildren." Funeral services were held at the Glendale United Methodist Church with interment following in the Sunset Memorial Park.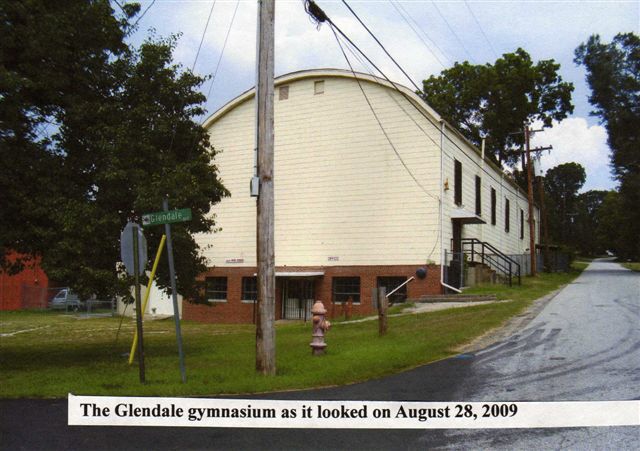 In 1949 the new community Gymnasium which had been built by Glendale Mills, replaced the old Community Building and became the new home of the Glendale Post Office.

Ruth E McGraw
was appointed Officer In Charge following Mr. Lovelace retirement May 28, 1971. On July 1, 1971 the name of the United States Postal Department was changed to the United States Postal Service becoming a separate independent entity, controlled by a board of governors in accordance to the Postal Reorganization Act. The title, Acting Postmaster, was replaced by, Officer in Charge. Having served as a postal clerk, Acting Postmaster and Officer In Charge for a combined total of more than 26 years of Postal service, Ruth retired on May 26, 1972.
Mrs. McGraw died January 23, 1997. Her obituary published in the Spartanburg Herald and Journal stated that; "she had died in the Spartanburg Medical Center". Funeral services were held in the Glendale Baptist Church where she had been a member for some 50 years. Interment was in the Bethesda Baptist Church cemetery, along side of her husband who had predeceased her. She was survived by her son, Donald McGraw of the home and four sisters; Elsie and Imorae Proctor, Forest City, N.C. Mrs. Jessie Walker, Shelby, N.C. and Mrs. Connie Ruppe, Rutherfordton, N.C. Two brothers; Jack and Charles Proctor, Forest City, N. C.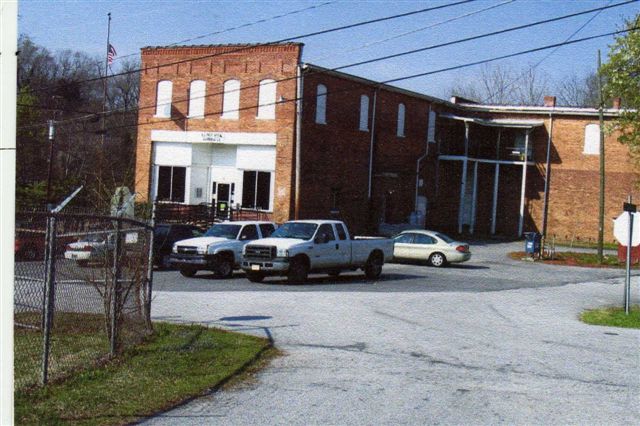 The mill store having been closed, the Glendale Masonic Lodge bought the building in 1967. After the renovation of the ground floor, the Postal Service leased space from the Masons into which the Post Office was moved and remains today.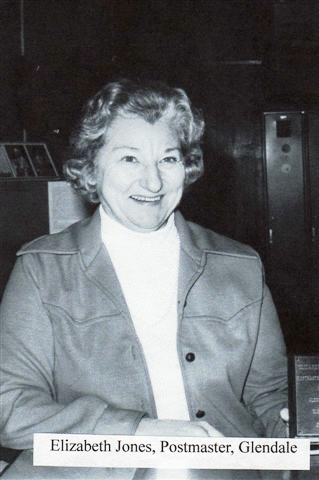 Elizabeth "Libb" Jones was appointed Postmaster on May 27, 1972. The Postal Reorganization Act of 1970-71 had gone into effect resulting in numerous changes. The Glendale office, which had been 3rd class was now rated as a # 13 office. Mail was being dispatched from Greenville rather than Spartanburg and was being transported by Highway Contract route, the old star route system had been discontinued

Born May 1, 1925, Libb was the daughter of Boyd Harmon and Vera Viola Veal Bridgeman and the wife of Charles Andrew Jones. She and her family lived on the Glendale/Fernwood Road, Spartanburg, S.C. She was a graduate of Anderson Junior College and Furman University. A long time member of the Fernwood Baptist Church and the Pilot Club of Spartanburg. Having given some 40 years of labor to Postal Service, Libb retired May 3, 1983. She had worked in the Spartanburg Post Office as a clerk and was serving as Postmaster at Whitney, S. C. when she transferred to Glendale. The Postmaster's salary was in the $25,000 range when she retired. She was also a member of the League of Postmasters and the National association of Postmasters.

Mrs. Jones died on Wednesday June 10, 2009. Her obituary which appeared in the Spartanburg HJ on June 11, stated that she had died in the Spartanburg Regional Hospice. She was survived by a daughter, Elizabeth Jones Tyndall of Mt. Pleasant and two sons: Charles William and Mark Rocky Jones of Spartanburg. Five grandchildren, numerous nieces and nephews. She was predeceased by her husband, son in-law, Capt. Clarence Carter Tyndall and three brothers; William Boyd, Clyde Earl and James Lancaster Bridgeman. Graveside services were held on June 13, 2009 at the Greenlawn Memorial Garden in Spartanburg, S. C.

Rachael P. O'Conner
was appointed Officer In Charge on May 3, 1983. Serving only about a month, she was released on June 25, 1983 upon the appointment of Emma Jett as Postmaster. Unfortunately, I have not been able to find any further records on Rachael. Reportedly, she was from the state of Texas.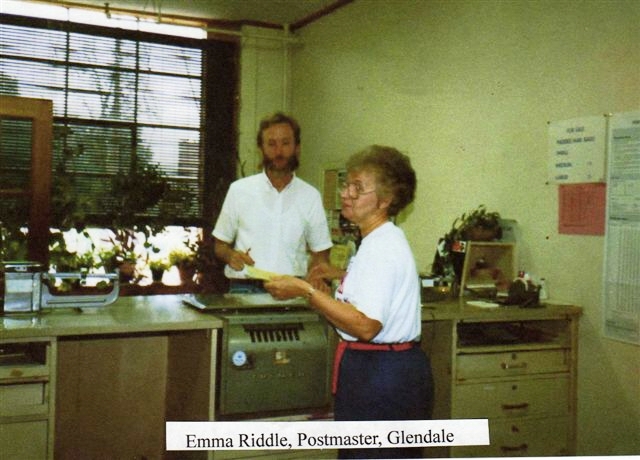 Emma Riddle Jett
was appointed Postmaster June 25, 1983. Although records showed it should have remained at #13, the Glendale Office had been reclassified to #11 with a salary of $23,000. Emma tells me that she was so glad to get the job and so satisfied, she did not complain. After three years, sending proof of records of revenue, the Post Office was immediately classified as #13 and her salary was raised accordingly. Getting good evaluations and cost of living increases, Emma states that her salary had increased considerably and that in the 90s, her salary "really jumped". For the last few years before her retirement, her salary ranged between $42,000 and $44,000, depending on the number of extra hours she worked as a mail counter in the Spartanburg Post Office, which paid her an excellent per hour rate. Glendale was still in class #13 when Emma retired on December 2, 1998.
Emma began her postal work as a career clerk with Mrs. Jones on October 11, 1972. Working as a career clerk for 11 years and serving as Postmaster for 15 years, she had a total of 26 years of postal service making her one of the longest serving Glendale Postal employees on record. Having worked for a number of years in the Mill Concession before entering Postal work and with her big smile, pleasing personality and wonderful disposition, Emma was known, loved and appreciated by all.
A native of Glendale, Emma was the daughter of Mr. Wilson and Ruth Sherbert Riddle. She had one sister, Evelyn and two brothers, Vernon and Paul Riddle. Emma married Gene Jett and they have two sons, Marty and David Jett, six grandchildren and one great grandchild.. She and her husband own a small farm on the outskirts of Glendale but live in their home located on Highland Street, Glendale, S.C. Emma and her husband are active members of the Glendale Baptist Church where Gene serves as a Deacon and Sunday School teacher while Emma serves as a member of the Sanctuary choir.
Mrs. Fred (Julia) McKinnish served as part time Postal Clerk during Mrs. Jett's tenure as Postmaster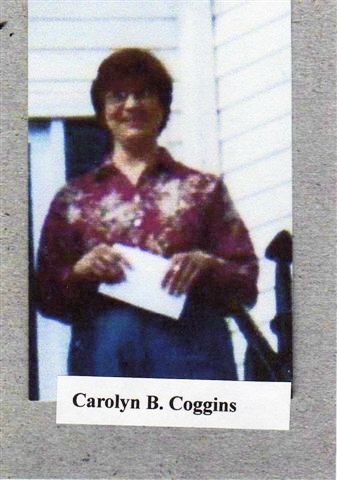 Carolyn B. Coggins
, transferring from Lyman S.C., was appointed as Officer In Charge of the Glendale Post Office on December 2, 1998 and was appointed Postmaster on June 19, 1999. A native of Union, S. C., Carolyn is the daughter of Mr. John D. and Hazel Young Berry. She had two brothers, J. Kenneth and David Thomas Berry. She is the mother of two girls; Lori and Robin Coggins and one son, Phillip Coggins.
The Post Office had a rating of 13 during her tenure as Postmaster. She served as Postmaster five years before retiring March 31, 2004. In a note I recently received from Mrs. Coggins along with her picture, she wrote, "Thank you for remembering me in your history of the Glendale Post Office. My time at Glendale will always be a treasure to me".
Sarah Seppala
was appointed as Officer in Charge on March 26, 2004 serving until the appointment of Mr. Tony Miller. No other information about Sarah was available at the time of this writing.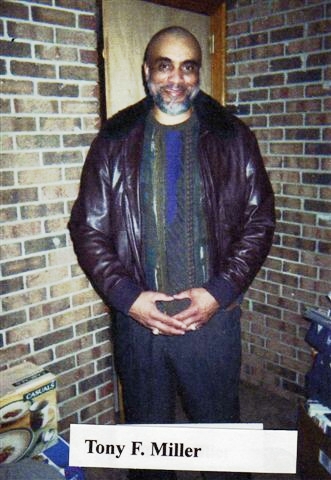 Tony F. Miller transferred from the Post Office in Clifton, S.C. and was appointed Postmaster at Glendale on August 21, 2004. Mr. Miller, the son of Mr. Enoch and Eloise Tillerson Miller, was born in Inman, S.C. He has one sister named Karen. Tony married Miss. Verena Griffin and they have two children, Tenita V. and Tori M. Miller and one grandson. Tony and his family live in the Roebuck area of Spartanburg County. Mr. Miller was transferred in August 2005 to become Officer In Charge of the Una Post Office where he worked until he retired on March 18, 2006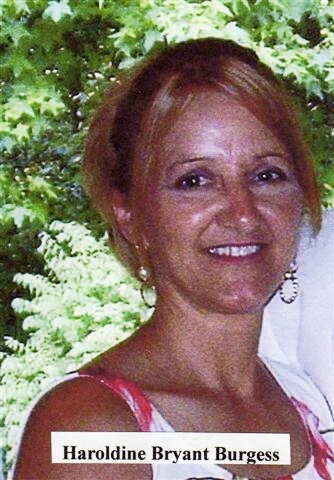 Haroldine "Dee" Bryant
was appointed as Officer In Charge at Glendale following the transfer of Tony Miller in August 2005, serving until January 2007. "Dee" as she is called, was born in Greenville, S.C., the daughter of Mr. Buck and Jean Owens Nabors and has four brothers. Ms. Bryant, has three sons; Blythe, William and Jonathan and lives in their home in the Glendale Village. "Dee" was just recently married to James Harold (Bo) Burgess, a life long resident of Glendale and they are making their home in Glendale.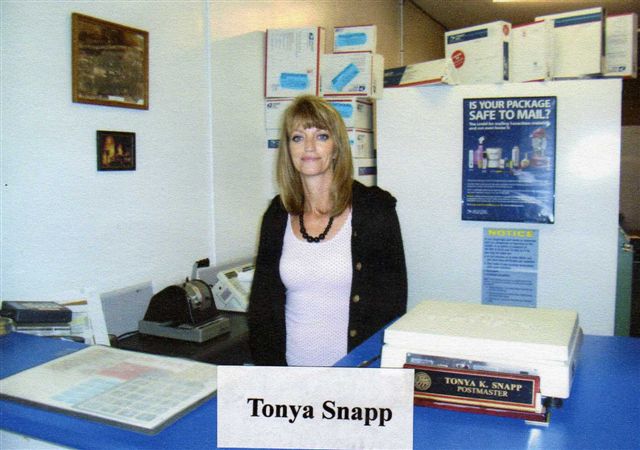 Tonya Keeler Snapp, was appointed Postmaster on January 20, 2007 and continues to serve at the time of this writing. Her previous postal experiences were in Union, South Carolina, where she started as a city carrier on August 13, 1986. After three years as a city carrier, also serving from time to time as a rural carrier. she was transferred to a postal clerk. On December 13, 1995, she transferred to the Pacolet Post Office where she worked as a clerk until coming to Glendale as Postmaster.

Tonya was born in Winchester, Virginia, the daughter Ms. Mary Frances Keeler. She has one sister and two brothers, Shirley, Eldon and Dennis Keeler. Divorced, Tonya is a single mother with one daughter named Hanna Leigh Snapp.

She is active in community activities and has assisted in numerous community gatherings. She has a very pleasing personality and is deeply appreciated by the patrons of her office. In speaking to Tonya about her role as Postmaster, she told this writer that her experience with the Postal Department has been good and that she was proud to be a Postal employee.

The mill having closed and burned, many residents have moved and most all local business establishments are gone. Postal business has dropped considerably, resulting in the Glendale Office dropping again to class #11 and remains such today. It has 306 mail boxes and serves some 2000 patrons.

The foregoing postal history is based on the following sources, Postal Service records, my personal records, knowledge and recollection. Also with the help of Jean Walden Robinson, Glenn Walden, Nancy Stepps, Carolyn Coggins, Emma Jett, Tony Miller, Dee Bryant Burgess and Tonya Snapp, all supplying pictures and information of themselves or their loved ones. Also Congressman Bob Inglis who helped in verifying dates through the Postal Service.