There are several projects that have been discussed but are only in the theoretical "What if?" stage. Right now they are only in the discussion stage and might or might not become a reality.
Rebuild the lake and reservoir.
For many years, there was a sizeable lake above the dam. The purpose of this dam was to provide a source of water power for the mill. Consideration and study is being given to rebuilding the lake. This would be a great source of recreation to the Glendale residents and visitors. The new lake would also be an asset for the Outdoor Center that is going to be in the former Methodist Church.
Build a working replica of the Iron Works
. An operational replica of the old Iron Works would be a great tourist attraction and also an educational asset for the area's students. All of the details including where, how size, etc. still have to be worked out. However, if the Iron Works could be built, it would be unique in the state and the South.
Hydroelectric generation using the old dam.
Install the proper equipment and use Lawson's Fork and the old dam to generate hydroelectric power to be used with the new projects, particularly the proposed Environmental Studies Center. This idea would be greatly enhanced if the lake and reservoir are rebuilt. There are numerous potential problems in bringing this idea to a reality. They include financing, local, state and federal environmental regulations. If done, this project has the potential to eventually pay for itself and be a source of funds for the other projects.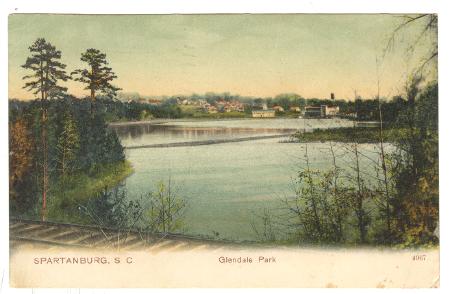 (This old postcard shows how the lake looked in the early 1900's.)

B. G. Stephens is a native of Glendale and has been very active in the
Friends of Glendale
organization and assisting with the various exciting projects that are happening with the the community. He has accumulated a variety of material that is pertinent to Glendale and the new projects and has arranged to make the material available on this web site. You can see a list of the material he has and gain access to it through links on the page,
Glendale Reports.
marylee@glendalesc.com
or by telephone at (843) 873-8117. See more information about Mary and her Glendale connection at
Mary McKinney Teaster
.