Doctor Robert H. Crow, a native of Woodruff, was born August 20.1907 and was a graduate of the Citadel and the S. C. Medical College. He served in the U.S. Army Medical Corps. He also served on the Board of Trustees for School District 3 for many years. In 1966, he was honored by the Spartanburg County Medical Society as "The Doctor of The Year" He operated the Crow Clinic in Cowpens, S.C.
He received a Presidential Commendation for exceptional service to others. Like some of the other Doctors, he never maintained an office at Glendale but made house calls and had a large number of patients in the community and surrounding areas who made regular visits to his office/clinic in Cowpens. After Doctor Martin and Doctor Koopman retired, Doctor Crow became a primary Physician for the Cowpens, Clifton and Glendale areas and was the attending Physician at the delivery of my baby daughter.
According to his obituary published Thursday May 27, 1982, Dr. Crow died on May 26 in the Mary Black Hospital having served as a General Practitioner some 45 years. Funeral services were held in the First Baptist Church of Cowpens where he had been a member for many years. Interment followed in the Greenlawn Memorial Gardens. He was survived by his wife, Juanita Gregory Crow and two sons.

Glendale Nurses

In addition to the fine Doctors which served the employees and residents of Glendale and the surrounding areas, the community was fortunate to have three of the finest Nurses to live in and serve the people when needed. They not only worked with the Doctors, they also would go into the homes where they were needed with the sick. They also worked with the school in conjunction with physical and mental health programs, vaccinations, eye exams and hearing tests. etc.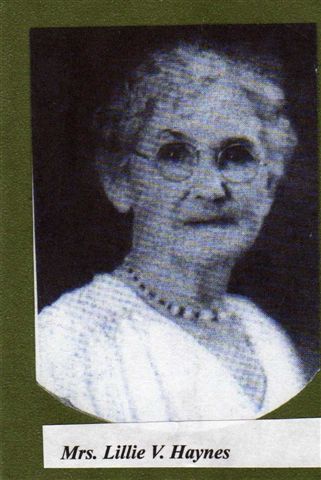 Mrs. Lillie V. Hayes, to my knowledge, was the first nurse with formal training to serve the village. Coming to Glendale in 1905 from Columbia S.C. where she was born on July 24,1864, and received her nurse training, she was the owner of the large two story Hayes house which had a number of apartments. Dr. Smith boarded there while living in Glendale. The house has been torn down and replaced by other buildings.
Though she was referred to as the Company nurse, I have no records indicating that Mrs. Hayes was ever employed by the Mill Company. Like the Doctor, she was most likely paid per case where the Company was involved. Some employees had 5 or 10 cents per week taken from their pay envelope to be given to Mrs. Hayes for her services. Though she was given small tokens of money by some for her medical services in their homes, it is obvious that her services in the community were mostly volunteer humanitarian assistance. She was a wonderful, kind lady and would help anyone at any time she could.
Mrs. Hayes daughter Ella, married a news columnist while her son George, served in the United States embassies to several different countries.
Mrs. Hayes had two parrots, a male and a female. Both talked some. Earl Crocker, the writer's cousin, lived in a house just a short ways below Mrs. Hayes. Sometimes, as a young lad, I would stop by his house on my way from elementary school. Mrs. Hayes taught Polly, the parrot, to say our names. Some time when she had made ice cream, she would set Polly on the porch and tell her to call us. The parrot would say, Earl....Clarence...Mrs. Hayes, Earl...Clarence....Mrs. Hayes. When we heard Polly calling, we would go up to her house and she would serve us some of the best ice cream one could ever eat.
Her obituary published Nov. 23,1955 states that Mrs. Hayes died November 22, 1955 in the Mary Black Hospital at the age of 91. Services were held at the J.F. Floyd Mortuary with interment being in the Greenlawn Memorial Gardens. According to her obituary, at the time of her death, she was the oldest member of the Glendale Methodist Church. She was survived by one son and one daughter.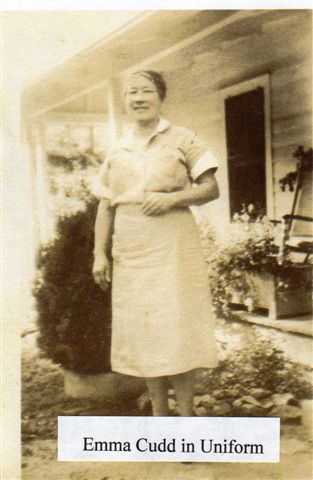 Mrs. Emma R. Cudd was a native of Mt. Carmel Pennsylvania. She was serving as a registered army nurse in Germany during WW1, when Joe Cudd, a native resident of Glendale S.C. became one of her patients. Joe was seriously ill, having been gassed on the battlefield. After long months of treatment, Joe was about to be discharged and sent home. Looking at Emma, he said, "You have been so good to me, I just wish I could take you home with me" To which Emma replied, "Well that just might be able to be arranged". From those humble statements, they moved into courtship ending in marriage moving to Glendale in December 1920 with Emma becoming known as the mill/village nurse. She helped take care of injured employees and their families. It has been said that she delivered many babies in the village. She also worked with the school which was being operated by the mill.
For a number of years they lived in a mill house at #133 Church street just two doors down from the Glendale Baptist Church. (now listed as 170 Church street) The company installed a bath room in the house for them which included a crowfoot cast iron bath tub. Theirs was one of only 3 or 4 houses that had a bath room with hot and cold water at that time.
For a short while the Company paid her a small fee but when times got tough,(the depression began to set in) she was informed by the Company that it could no longer pay her. Again, employees had 5 and 10 cents taken from the weekly earning to give to her. Buying a two room house on the Bethesda road, remodeling and adding additional rooms they moved to where they remained until their deaths.The road was renamed the; "Emma Cudd Road" in her honor
Mrs. Cudd was loved dearly by all who knew her. I never heard an ill word spoken against her. She too, sought to help anyone in anyway she could. She was a fine Christian lady of the Methodist Faith and a member of the Glendale Methodist Church. Her nephew, Vannie Cudd, related to me in a recent visit, how she would always walk to church (approx. 1 mile) on Easter Sunday for the Easter Sunrise service regardless of the weather. Asking her why they had to walk, she told them that "Jesus walked all the way to Calvary to die for them, surely they could walk to the Sunrise service to worship Him".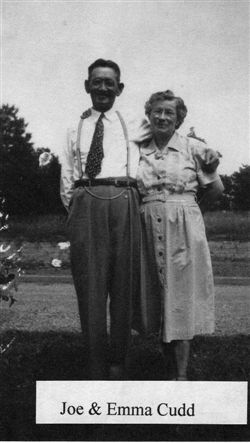 She and Joe had been married 44 years when he died in 1964. When Mrs. Cudd took sick, her nephew Vannie and his family moved in to help take care of her until she was admitted to the Veterans Hospital in Salisbury, N.C. where she died on August 29, 1970. She was 82 years of age. She and Joe had no children.
Her obituary published August 30, 1970 in the
Spartanburg Herald and Journal,
shows that her funeral services were held at the M.W. Bobo Funeral Chapel with interment following in the Greenlawn Memorial Gardens. No surviving family members were listed.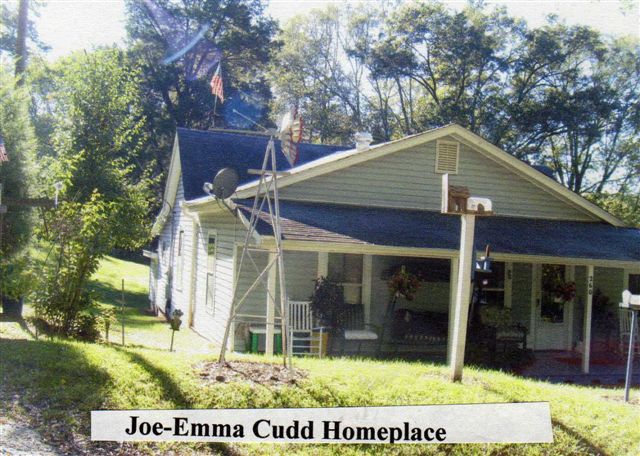 Her nephew Vannie, remodeled the house, adding more space, and today, he and his wife occupy the residence. .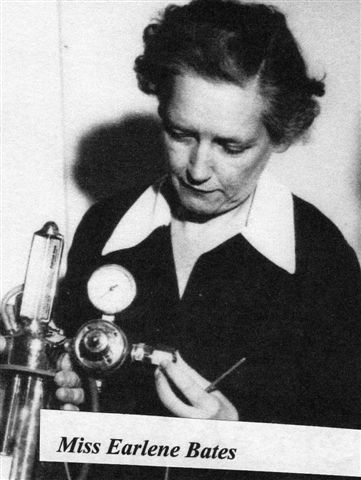 Miss Dorthy Earline Bates was a native of Glendale, the daughter of Mr. and Mrs. Frank Bates who lived for many years in a house at #1 Mill Street (first called Main) directly in front of the mill office before moving to their new home on the Glendale/Whitestone highway. She moved to New York as a young lady and became a registered nurse having received her training at the Belleview Hospital of New York where she worked for many years.
Returning to Glendale in the late forties, she was employed by Glendale Mills as the company nurse. While her responsibility was assisting the Doctor with mill employee injuries and sicknesses, she also assisted in the community, including the school, where and when needed.
Earline had returned to the old family home on the Glendale/Whitestone highway. Earline died at the Spartanburg Regional Hospital after a brief illness on September 22, 1976 at the age of 71. Grave side services were held at Greenlawn Memorial Gardens. She was a member of the Church of The Advent. Her obituary published in the
Spartanburg Herald and Journal
September 24, 1976 showed that she was survived by one sister and one brother.

Other Medical Helpers

In addition to the three registered nurses listed before, there were three ladies who became gracious benefactors to the people of the Glendale community. To my knowledge, none had any formal training, yet they were of great assistance in the homes when sickness, death and other needs arose. They were:
Emmie Tew
of whom very little has been recorded. Her picture appears in the Glendale Pictorial Directory along with brief comments. She was a white lady who seems to have been an domestic helper in Mr. Jervy DuPre's home. I have found no reference among my mill files regarding this lady but what little I have read and heard about her tells me that she was a very kind gracious lady who volunteered to help the sick and needy back in the early 1900s.
Aunt Ella Dillard
as most people called her in the early 1900s, lived with other members of her family, in a company farm house about a mile north of the mill just across from the Lewis Chapel Baptist Church and was used as a domestic helper in many of the homes. She was a black lady and in times of sickness she would come into the home, cook, change the beds, bath the sick and help them with their medicine when needed. Of course, she was always under the watchful eyes of Doctor Smith who was the village Doctor through the 1930s. Though her work among the sick was often voluntary, most families would give her a little money for her services. It was her basic means of living.
Reecy
, (I don't recall her last name) was another black lady who was of great help in times of sickness. Like Aunt Ella Dillard, she too would come into the home and cook meals, clean the house, bath the patient and give the medicine. She would also do laundry when needed. She was much younger than Aunt Ella and was able to do heavier work. This writer remembers back in the early thirties when the flu was raging in our area, both my parents, one of my bothers and myself were all in the bed with the flu. She would come to the house, do what was needed and then fix us a big heaping tablespoon of molasses with sulfa. Man, you had to hold your noise to take it down. It smelled like rotten eggs. Of course, we got castor oil when needed. Reecy lived in a little two room house on the backside of the community on the old Carrie Thomas place which joined the Mill property across the river on the north-west side. There was a spring not far from her house from which she would carry water to drink, bath and do washings for others.
Though it was oft times a very small amount, families always sought to give Reecy money for her services. It was her only means of support.
Memories

By the way, while four of us were sick with the flu, two of my brothers played football in the snow with two black boys who lived in the area, smoking rabbit tobacco and never came down with even a cold during that flu season. Rabbit tobacco was nothing more than the slender dried leaf of a common weed that grew in abundance in the cotton and corn fields of that day. If it had medicinal value, I don't know, but it seemed to work for them. An old medical book which I have, tells us that it was once used in "sweat therapy" to treat certain disease and was referred to as, "life everlasting".
Those of us from the old school (I'm 85 years old) will never forget our "Medicine Men and Women" of the early days when castor oil, croton oil, sulfa, turpentine, asafetida, calomel, carters little liver pills, black draught, Vicks vapor rub, crazy water crystals, aspirin and other such, were the cure all miracle drugs of the day. They could all be purchased at the Glendale Mill Store drug counter. Hot knuckle-berry tea was given to bring the measles out. Wood splints were used to protect broken bones rather than plaster casts and brown paper soaked in vinegar was the answer for ankle and wrist strains.
Of course, don't forget the rabbit tobacco.
And we called that "good old days"
Medical Facilities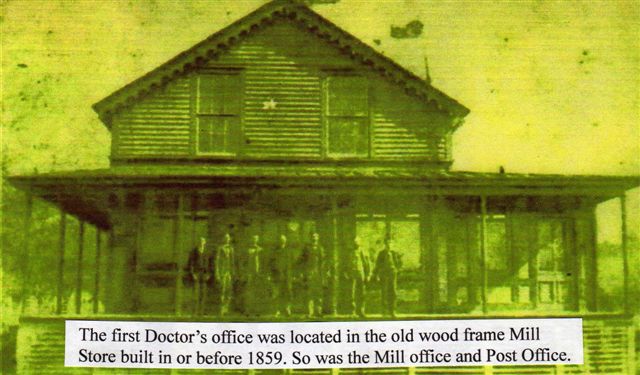 Records indicate that for the first forty plus years, the Doctor's office at Bivingsville was maintained in the old wooden mill store building which was opened for business during or before 1859.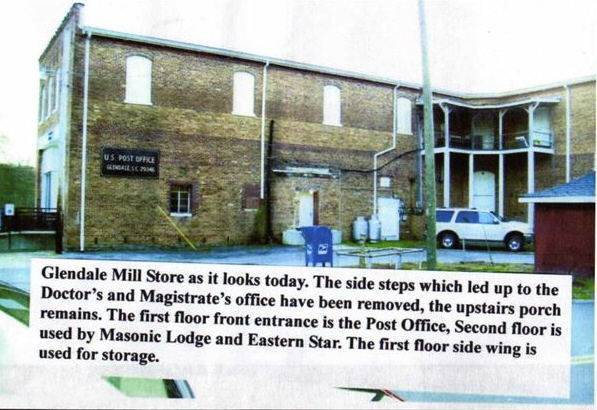 When the Bivingsville wood store building was replaced by the new Glendale Mill Brick Store in 1902-03, (name changed in 1878), the Doctor's office was moved to the second floor in the new building which had an outside stairway leading up to the office. Stairs have been removed but porch remains.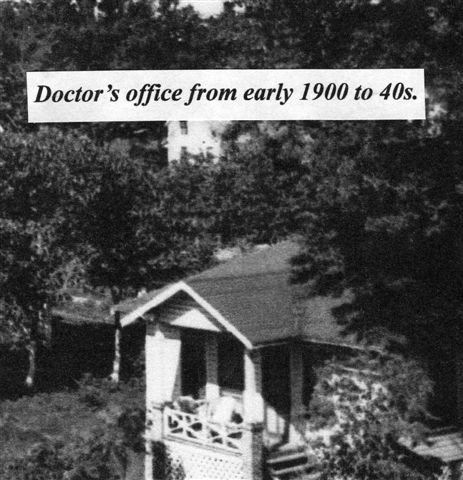 In the early 1900s, a small Doctor's office was built at #4 Mill street (first named Main Street) directly in front of the mill, next door to Dr. Biving's house. This building was utilized as the office of the Doctors and Nurses until the late 40s at which time it was moved directly behind the Bivings house facing Douglas Street, renovated and converted into a residential dwelling. The Doctor/Nurse's office was then moved once again into the Mill Store building, first floor, where it remained until it was closed when the mill was sold .
Medical Care in Glendale Today

Following the sale of the mill, the Doctor/Nurse office was closed and today there is no local medical Physician, nurse or facility. While some few Doctors still make house calls on a very limited basis, for the most part, the sick and injured of the community obtain their medical attention from the Doctors in Pacolet, Cowpens and Spartanburg.
** Reference;
A Brief History of Medicine of Spartanburg Region
by;
Doctor Wm. Chapman Herbert, Jr.