Bivingsville Manufacturing Company - 1830 - 1876
The forerunner of Glendale Mills, Bivingsville Manufacturing Co. (Bivingsville Cotton Factory as it was also called) was founded by Dr. James Bivings who was born April 28,1787 in Edenton, North Carolina. He was a Medical Doctor who had become infatuated by the textile manufacturing process. Bringing with him from Lincolnton N.C. craftsmen needed for the task, he bought land on the banks of the Lawson Fork river in Spartanburg County in 1830 to build what was destined to become the oldest continuous operating cotton mill in Spartanburg county as of 1961. The factory with 1200 spindles and 24 looms was powered by a 26 foot water wheel with a 12 foot breast and started production about 1835. It was reported that he had the machinery shipped from New Jersey.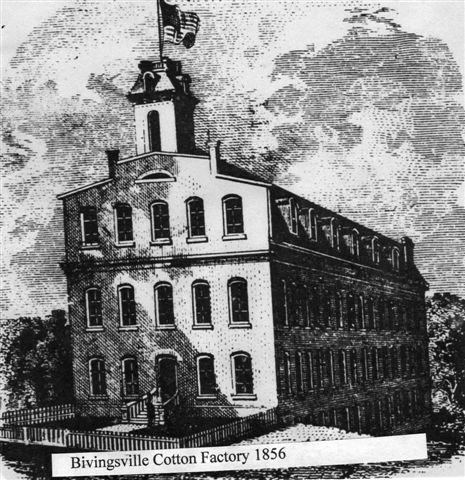 Old timers tell us that Dr. Bivings being a very religious man, on one occasion stopped the mill asking all employees to attend the revival which was being held in the village. Along with the mill plant, Dr. Bivings founded the village of Bivingsville which consisted of some 12 homes, a community church in which old timers said that school classes were taught during week days, along with a shop or two. Mr. Bivings built two magnificent houses in Spartanburg County which stand today. First he built (about 1834-35) a magnificent two and one half story house located directly in front of the mill composed of twelve rooms and a full size basement. A huge fire place was located in every room.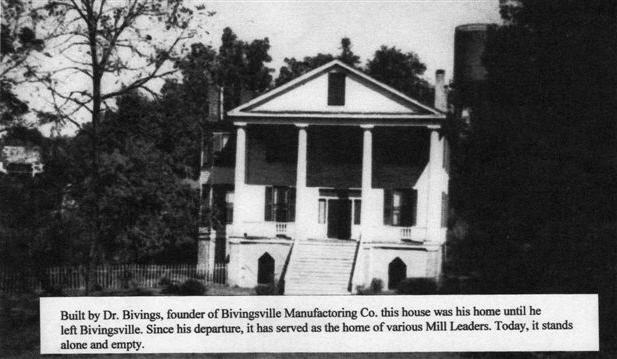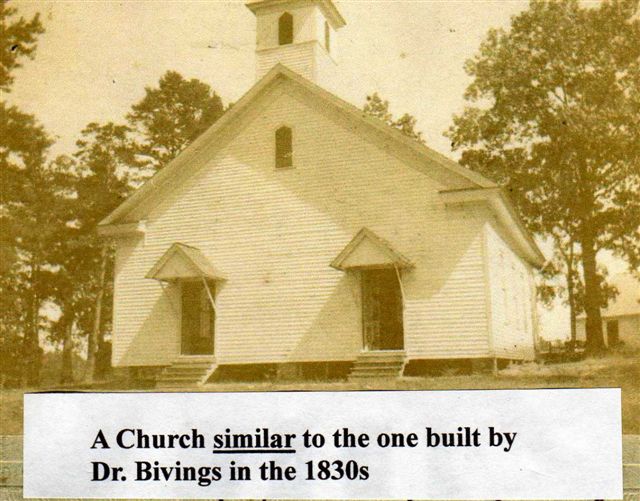 After Dr. Bivings had moved to his new home in Spartanburg(1854) the house in Bivingsville became a boarding house for a while for mill officials. Reports are that Dexter Converse, who had come to Bivingsville in 1855 to be Superintendent of the mill at a salary of $50.00 per month, boarded in the house. Having been promoted to Manager, Mr. Converse purchased the Bivings mansion in the late 1850s for his family's home adding additional room on the side. They remained there until after the birth of their daughter at which time they moved into their new home in Spartanburg. Since that day, the house has been the home of various mill officials and a few more boarders. Mr. Jervey DuPre Sr. who came to the mill in 1879 as a sweeper and retired in 1947 as President and Treasurer of the company, has told how he boarded in the house for some 12 years. Steam heat was put in the house about 1950. The house stands today, though in poor condition due to neglect. It is one of Spartanburg counties oldest houses.
Dr. Bivings built another two and one half story house on North Church Street in Spartanburg in 1854 where he lived for a while before selling to his brother in-law, John Evins shortly after the civil war and eventually became the home of John's son, Choice Evins, Dr. Bivings nephew, who later became President of Glendale Mills.
Prospering for some 10-15 years the factory fell into serious trouble in an economy crash at which time Dr. Bivings divested himself of all interest in the Bivingsville Mill. Dr. Bivings went on to build the Crawfordsville Mill (later changed to Fairmont) which was reported as being "very prosperous." Dr. Bivings died August 16, 1869 and was buried in the Fairmont Methodist cemetery, Fairmont, South Carolina not far from the mill he had founded. Recent research has discovered the full text of Dr. Bivings' obituary as published in several publications in 1869. You can read this at
Dr. Bivings Obituary
.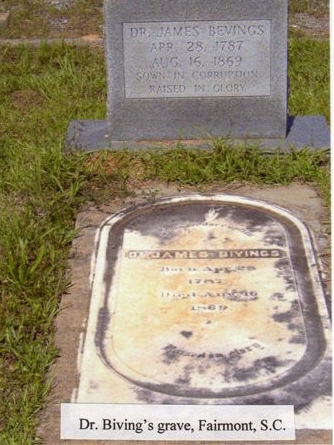 (Special note; I have just talked to a 89 year old gentleman today (May 26.2009) who is a trustee of the Church where Dr. Bivings is buried. He related to me that Dr.Bivings had built a large two story house in the Fairmont vicinity known as "the Bivings house" which burned down one night, a few years ago. He also said that Dr. Bivings was known to take his horse and buggy to visit the sick in their homes in the community of Fairmont.)
After Dr. Bivings - 1854 -1876
Having left control of the Bivingsville mill to Silas C. Leitner who had been his partner, with the economy worsening and finding himself in a hopeless situation by ever increasing debts, Mr. Leitner left town in early 1855, leaving the mill in bankruptcy to be sold in a Sheriff's sale.

Forming an association among themselves with a capital of some $30,000.00, J. Bomar, Simpson Bobo, S.N. Evins, Vardry McBee, J.C. Zimmerman and Dexter Converse bought the plant for $19,500 in 1856 and operated for a number of years under the name J.Bomar & Company with Dexter Converse serving as Manager. A copy of this association along with a picture of the Bivingsville Mill was hanging in the mill office at Glendale the last time I remember seeing it. When the Civil War broke out, some being suspicious of a Yankee being in town, Mr. Converse and Mr. Twichell, his brother in-law who had come from N.Y. in 1859 to be bookkeeper in the Bivingsville mill, volunteered for the Confederate army but was released in about six months being given an honorable discharge by Gen. Robert E. Lee to return to the mill which was producing material for the Confederate army. Along with war necessities, swords, bowie knives and uniform material, the mill was also producing shoes with wooden soles.

Following Mr. Bomar's death, (1868) Dexter Converse was promoted to President. Having reorganized by 1875, the mill had some 5,000 spindles, 120 looms, 175 employees, a grist mill, saw mill, cotton gin, machine shop and it is believed that a community building and a mill store had been added. The village had become the show place of the county. In 1876 Dexter Converse, A.H. Twichell and J.C. Zimmerman bought all interest of the others, changing the name to "The D.E. Converse Company".The name of the village was changed to Glendale at the suggestion of Mrs. Converse and the Post-office name was changed in 1878.

The D.E.Converse Company 1876-1946

Dexter E. Converse, born in 1828 in Vermont worked in the cotton mills of Canada before moving to Lincolnton, N.C. from whence he came to Bivingsville, S.C. to become Superintendent of the Bivingsville Cotton Factory in 1855. He married his 17 year old first cousin, Helen Twichell from New York in 1855. Having partnered with A.H. Twichell, his brother in-law, and J.C. Zimmerman to buy the interest of all others in the mill, they incorporated the Company as,"The D.E. Converse Company" in 1889 naming Mr. Converse President.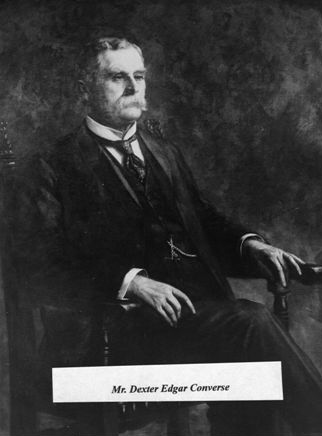 Under the leadership of Mr. Converse, the mill continued to grow and prosper. In 1890 the company had added a three story building to the complex adding some 12,000 spindles. The village had some 75 houses. Being a real genius in textile management and finances, Mr. Converse with his partners,built and founded Clifton No. 1 Mill in 1880. In 1888 they built and founded Clifton No.2 and in 1896, just three years before his death, they built and founded Converse Mill. A news release showed he was a stockholder in the Pacolet, Whitney and Spartan Mills.

Before his death, Mr. Converse and some of his business partners having a desire for an institution in which their daughters could be schooled, founded the college for girls which was to be known as Converse College.(1889) The auditorium was named "the Twichell Auditorium" in honor of his wife's (Helen Twichell) family name. Mr. Converse served as President of the Board of Directors for some ten years and it is said that he made up school budget deficits out of his own pocket for the first few years. Shortly before his death he had built a home on Pine street in Spartanburg where he died on Oct. 4, 1899, a "modest and much loved man".

Mr. Twichell had built across the street at the right of the Bivings mansion in Glendale, a beautiful, spacious home for him and his family where they lived until they too, built and moved into their new home on Pine street in Spartanburg, S.C. in 1882. Mr. Converse's death left Mr. Twichell as President. Under the leadership of Mr. Twichell a third building (five story) was built in 1902 having both water and steam power, adding 20,000 more spindles.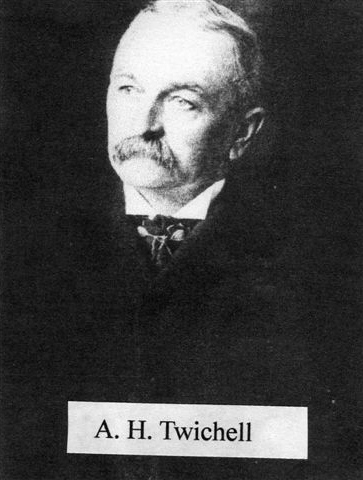 Mr. S. Jervey Dupre, who went to work at D.E. Converse Co in 1879 as a sweeper and became Company President and treasurer confirms these figures in an interview which he gave at a later date. Mr. W.E. Lindsey became president in 1916. S. Jervey Dupre was secretary, R.F.(Fred) Bagwell had become Superintendent in 1914 and served in that capacity until 1944. Albert Brown was card room supervisor, Will Rogers was boss spinner, Walter Gregory was over the old mill weaving and Benard White was over the new mill weave room. I. B. Rhinehart supervised the cloth room and J. T. Varner, (my Uncle) was Master Mechanic. In commenting about the loyalty of the employees and their satisfaction with their homes, Mr. Lindsey said; "the people love to live here, they seldom leave and when they do. they are sure to come back"

A 1922 report showed the mill having 38,000 spindles. (I suppose this included the 1200 in the original mill) It had some 350 employees with a weekly payroll of $4,000.00. There were 130 homes in the community which had both water and electricity. Benard White became Superintendent in 1944 and continued until 1952.
Men who served as President of D.E. Converse Company were: Dexter Edgar Converse, 1889-99; Albert H. Twichell, 1899-1916, brother in-law to Mr. Converse; W.E. Lindsey 1916-28; J.Choice Evins,1928-45, nephew to Dr. Bivings founder of Bivingsville Cotton Mill; S.Jervey Dupre, 1945-47.
Click on this link,
Presidents
, to read more information about these men.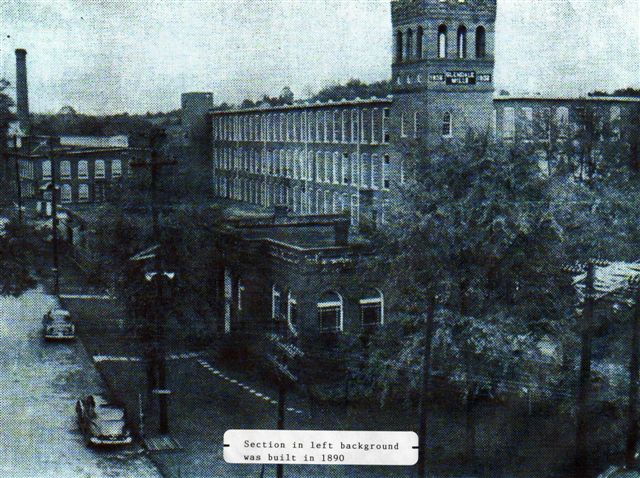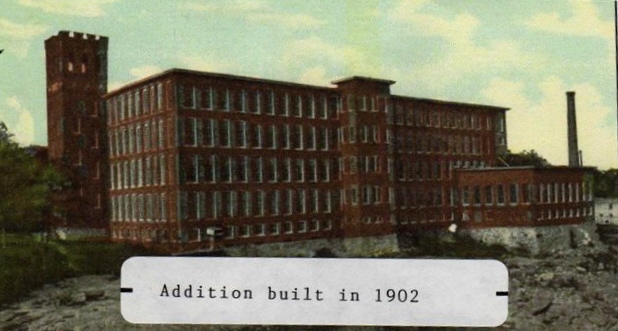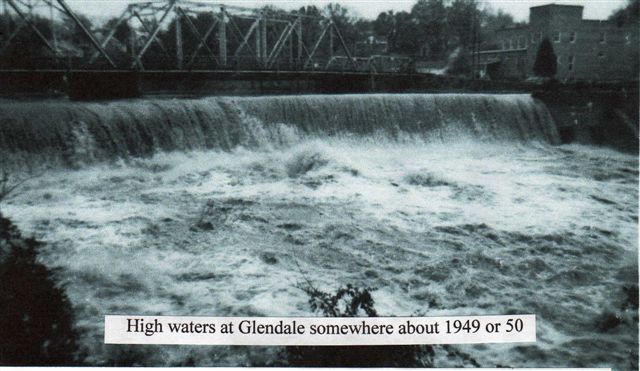 Glendale Mills 1946- 1961
The D.E. Converse Company was sold in 1946 to J. L. Stifel and Sons, Warren Chaffin, President. The name was changed to Glendale Mills in keeping with the village name. Mr. Jervey DuPre Sr. who had bought his first car from Sears Roebuck Co. in 1909, and had worked at the mill since 1879, had been promoted to President and Treasurer of the company and remained such until 1947 when he retired from the company. Mr. Louis deLoach, from Springs Cotton Mills, came to Glendale in 1947 as V.P. and General Manager. Shortly after his arrival, Mr. deLoach announced a million and half dollar improvement program destined to change the mill, village and it's people for life.
I was serving as Glendale Postmaster in 1948 when Mr. deLoach approached me about joining the company as Personnel Consultant/General Manager of the Mill Store and it's concessions. After considering the options before me and experiencing his enthusiasm, I joined the company also taking Supervision of the engineering and mechanical department at a later date reporting directly to Mr. deLoach.
Wishing to keep both written and photographic records of the progress, he and I both took dozens of pictures along with keeping records of the work being done. On February 26,1948 the Mill office was robbed of payroll money in the amount of $18,000.00. Claude Manis was caught in Tennessee and returned to Spartanburg to be charged and convicted of the crime. After five years of hard work, the program was basically finished. An Allison fence was now enclosing the plant. (1947-48) A two story 20,000 square foot carding and spinning addition had been built adding 8,000 spindles,4,500 twisters, 23 cards and 27 combers.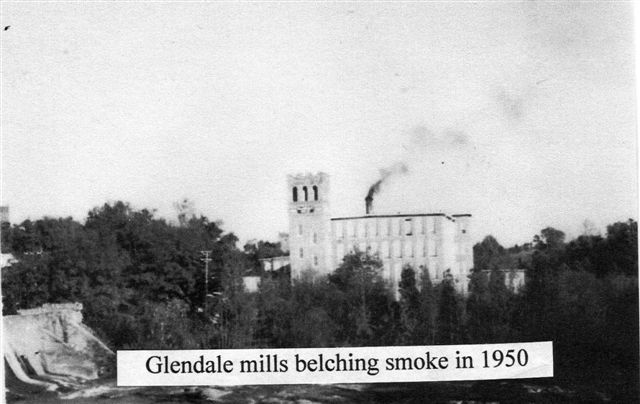 The plant had been renovated from bottom to top, the interior having been painted throughout. Every piece of cloth producing machinery had been moved, centralized to individual departments. A new automatic high speed elevator had been installed between mill 2 & 3. Fluorescent lights were added, looms had been motorized. A new electric control room had been built and new switchboards had been installed in order to receive and handle the additional power from Duke Power Co. needed for the mill and the remodeled houses.
The water wheel, generator and steam engines which had furnished power for the mill since 1903 and before, along with the obsolete belt drives, had been taken out with all machines having been motorized.(1950). Oil fired boilers were installed in 1951.Obsolete equipment had been replaced with new modern equipment. Worn equipment had been rebuilt or replaced. A new 180 spindle automatic spooler and overhead cleaning system had been added. A canteen serving hot and cold sandwiches, etc, had been built and in operation. A new one floor weave room for combed material was being built and added to the end of the plant next to the office. (1953-54). At this time the Glendale plant had some 45,000 spindles and 1019 looms with some 600 full time mill employees and some 200 temporary workers for renovation and construction work.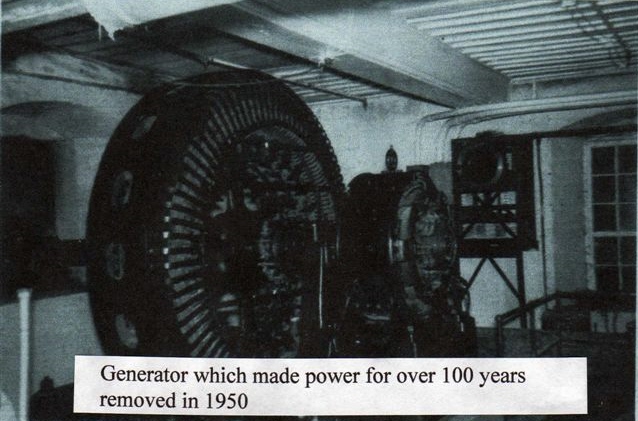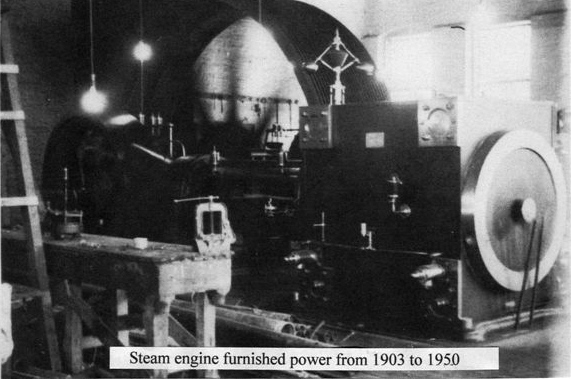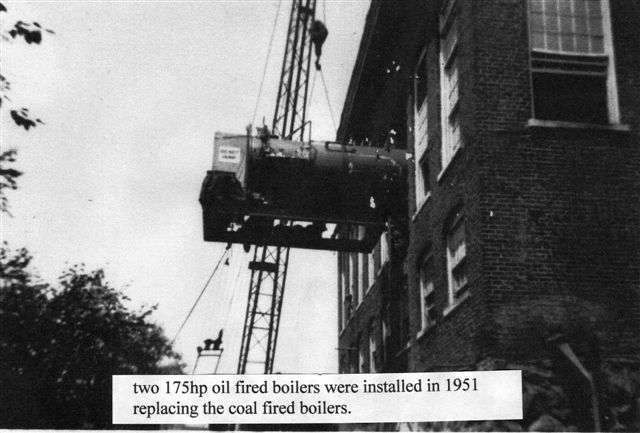 A bonus system based on one's longevity with the mill had been set up. Large Christmas bags containing apples, oranges, nuts, candies, cookies, pop corn and fruit cakes weighing a total of some 30 pounds were distributed to every employee each Christmas. Fourth of July celebrations were being observed with food, fun and games each year. Glendale Mills had also purchased and were operating Douglasville Mills, Douglasville, Ga.
The Glendale Mill Office Robbery
In 1948, Glendale Mills was the victim of one of the largest robberies ever to take place in the Upstate. Read the full details at
Mill Office Robbery.
Glendale Mill Village Improvements
The little village which started as Bivingsville in 1832 with twelve houses, a community church and a shop or two had by 1946 become a community of 158 houses with some 800 residents. A mill store had been added in the late 1800s along with a large community building in which school classes were taught for a while and other community activities were held. The post-office, barber shop, shoe shop and a small lunch room were also located in the building. Though the mill store had been replaced in 1903 and in moderate shape, and a modern brick school had been built and four church buildings added, most all village houses were in poor shape, badly in need of renovation. The village houses had electricity and running water but none had provision for hot water heaters or stoves in that the houses had only 110 volts of electricity which was insufficient for either. Most all had bath rooms consisting of an old type commode with the water tank mounted above the commode. Of the 158 houses, some had been moved with 40 having been torn down leaving some 118 to be repaired. All had been renovated adding new modern bathrooms with hot water heaters with 220 volt electric service. Two clothes closets had been added to most six room houses.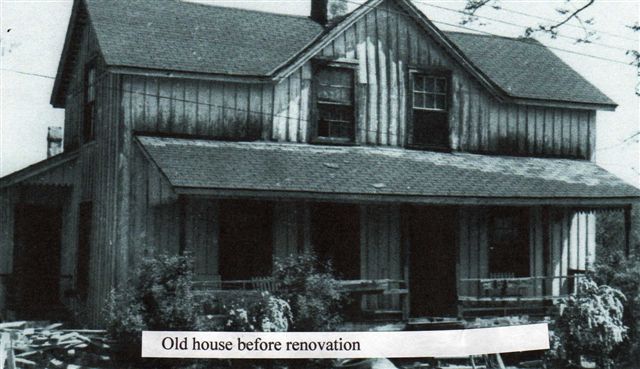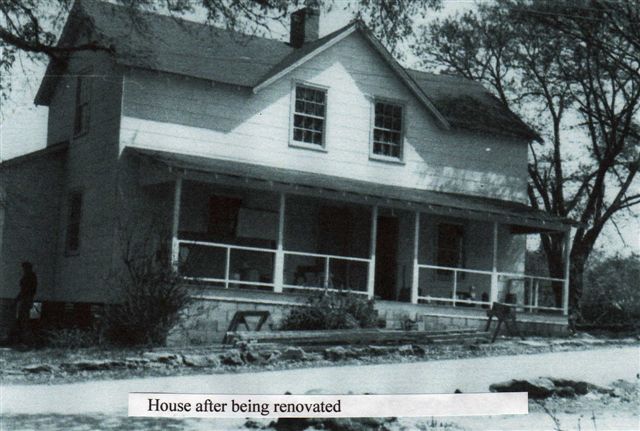 The water system had been updated with 5 new wells and an additional 60,000 gallon water storage tank having been added. New sewer lines had been installed throughout the village with raw sewage being collected in a large treatment tank and drying bed behind the mill instead of emptying raw into the river as it had for years. Glendale Mills was among the first of the old mill plants to make this change which was a statewide concern and I was invited to speak before a committee of the State legislature in Columbia about our project.
A new gymnasium had been built. The old community building was torn down being replaced by a large gymnasium in which the post-office, barber shop with hot and cold showers, a shoe shop, cafe and magistrate office along with a large recreation area were located in the basement. Sports teams were being sponsored by the Mill company along with a Boy Scout troop. The streets which were once covered with cinders were now paved and renamed, twisting among a village of some 118 houses, four churches, three parsonages, 1 school, a large mill store, gymnasium, three water tanks, a new post-office and the first community cemetery.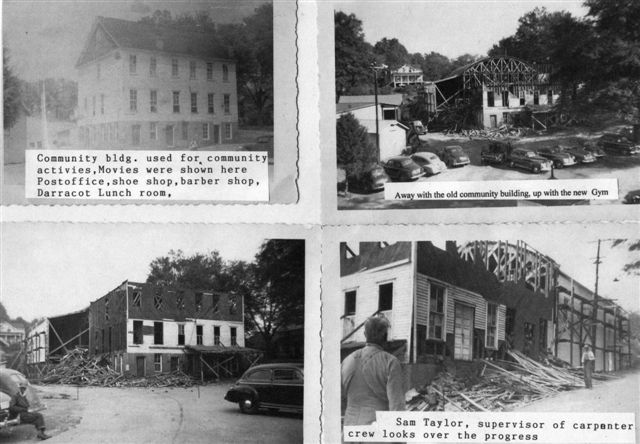 The Mill store had been remodeled. Rest rooms had been added and a short order Cafe was in place in the new gymnasium. Steam heat had been installed in the Store and the Gymnasium. Duke power was readying to take charge of the power supply to all homes. Shortly thereafter, Spartanburg Water and Sewer Department took charge of the water and sewer systems. A lunch room had been added to the school building by the company, giving the students a nice place to eat their lunches.
Mr. deLoach had been promoted to Executive VP and General Manager in October 1951 and to be sure, had made his imprint on both the mill and the village. In 1955-56 the houses were sold with employees having first choice. According to my records, when I joined the company they owned 154 houses in the village, 4 in adjacent areas for a total of 158 with some 70 being duplex having two families per house for a total of some 8 to 900 residents. We had torn down 40 leaving 118 homes to be sold. Of those 118 some 60 were 6 room duplex with perhaps 40 or more having two family residents meaning that some 6 to 700 persons were living on the village at the time the houses were to be sold. Of course the family with the longest tenure with the mill had first choice of purchase. To my knowledge, every family wishing to buy a home was able to do so. While some paid cash, financial arrangements had been made for employees to purchase their home on installments if and when needed. The average house sold in the price range of 3 to 5 thousand dollars.
(See receipt for typical house.)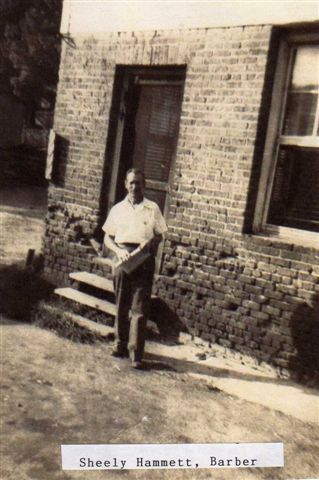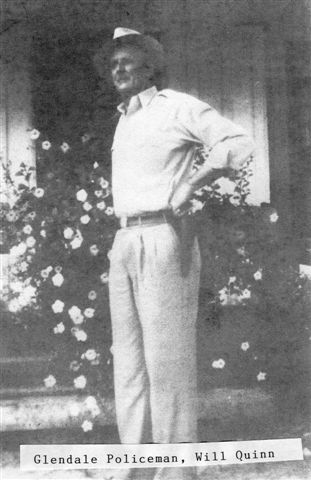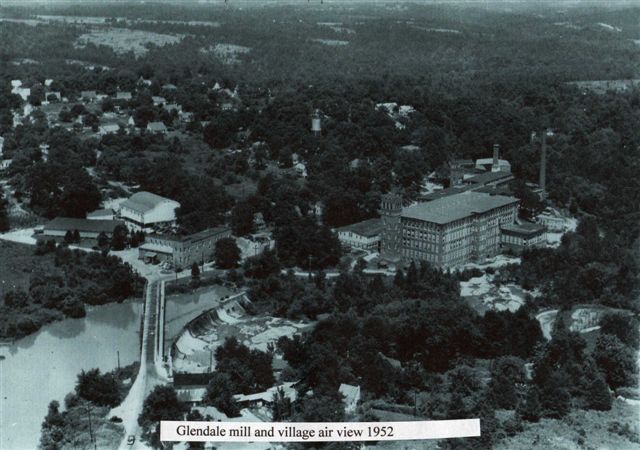 The Mill is Sold
The mill was sold through a merger with Indian Head Mills in 1957 and Mr. deLoach announced his resignation, effective immediately. He and his family were among the finest families I have ever known and he was the best and most considerate boss I ever worked with. He was strictly professional. One of the first things he said in hiring me was, Clarence, "we want to see that everyone is treated fair". While touring the plant together he would not allow me to even buy him a coke from a machine or in the canteen lest someone get the idea we were getting too close and would not be objective in our individual opinions. He was boss and called the shots and I always appreciated and respected that fact. He was a genuine southern Christian gentlemen. Local officials of Glendale Mills were:
Mr. Louis deLoach, Exc. Vice President/General Manager; H.B.White,Supt,1944-1949; E.D. Bagwell, Supt.1949-1951; J.B. Lanford, Supt.1952-1956.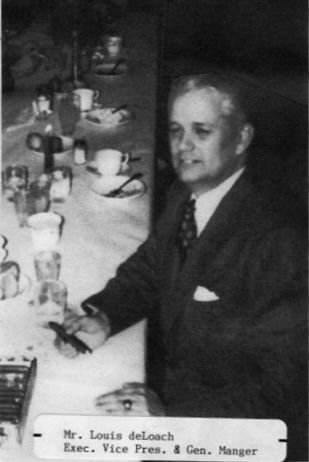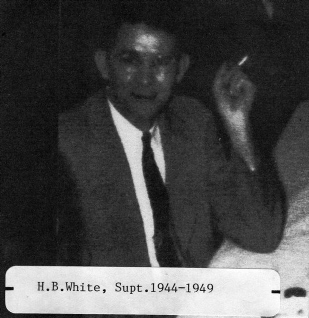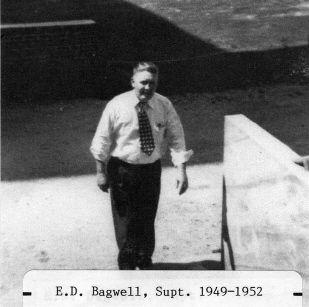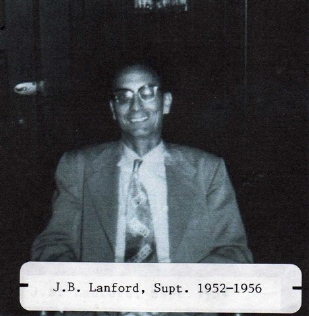 Shortly after Mr. deLoach's departure, with Indian Head bringing in their own team, I was relieved of all responsibilities in the mill and village but asked to stay on as store and concessions Manager. The store was closed in 1958 and I left the company. Following Mr. deLoach's death, his daughter gave me many, if not most, of his pictures along with other material on Glendale. I have used that along with data which I personally had, in creating this story on the history of Glendale Mills.
The above story and photos about the mill's history were furnished by Mr. Clarence Crocker, a life long Glendale resident,
in May, 2009.
Personal Note about Crocker Family Connection to the Textile Mill at Glendale
According to our family records, my great grandfather worked in BivingsvilleCotton Mills shortly after it started production in 1835 and was among the first to live in the village. My grandfather who was born at his home on Broadway street in Bivingsville helped start the first drill loom in the plant and was boss weaver for many years. My dad worked in the mill most of his life and when I left, it was the first time since the early days of it's beginning (1835) that a member of my family was not employed by Glendale Mills or it's precedents.
Footnote: Many things have happened since 1958 which have changed Glendale and it's people. The mill stopped production in 1961, shutting it's doors. This left the people of the community without employment. Some were able to find work in plants nearby and were able to keep their homes. Some sold their homes and moved away. From the day it closed until the plant was destroyed by fire (March 21, 2004) the property had changed hands three or four times finally becoming just a warehouse. Needless to say, this has had a devastating effect on the people and the community. Some houses are vacant, some have been torn down and some are being poorly maintained . Though recent interventions have begun to restore the community, the fact is that the community of the fifties of kind, hard working friends which we all loved and enjoyed, to our dismay, no longer exists.

May 2009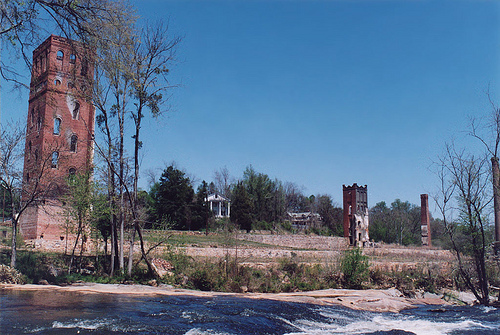 Mill Ruins Today
(Photo courtesy of Jim Cody)