Mr. J. B. Lanford, a native of Woodruff, the son of Mr. Fred and Dora Chastain Lanford, came to Glendale in 1948 as Overseer of the weave room and was promoted to Superintendent in 1952, working in that position until the mill was sold by merger with Indian Head Mills in 1957. Mr. Lanford came to Glendale from Clinton Mills, Clinton, S.C. He had previously worked at Mayfair Mills, Arcadia, S.C.. J. B. as he was known, married Christine Burch, a native of Greenville county, the daughter of Mr. Jack and Lily Arms Burch. J. B. and Christine had one daughter, Evelyn.
Coming to Glendale, they lived for a short while in a new house which had been built by the company on the Glendale/Clifton road. Next, they moved into the large "Boss Weavers" house in front of the school and finally, after being promoted to mill Superintendent, they moved into the Super's house in front of the mill. J. B. and his family were all faithful members of the Glendale Baptist Church while living in Glendale.
Mrs. Christine Burch Lanford proceeded her husband in death having died Sunday, July 14,1991 in the Spartanburg Regional Hospital. She was 78 years of age and was survived by her husband and their daughter, Mrs. John (Evelyn) Lanford Shehan. One brother; Edgar Burch of Plant City, Fla. and three sisters: Ruby Morgan of Spartanburg, Mafry Padgett of Campobello and Martha Grubbs of Roebuck. Her funeral was held at the Northview Baptist Church, Spartanburg, S.C. with interment in the Greenlawn Memorial Gardens.
After leaving Glendale, J.B., as he was known, worked with the Andrews Bearings Company until his retirement and was living at 137 Lanier Drive in Spartanburg when he died on April 17,1992. He was 79 years of age. He had moved his church membership to the Northview Baptist Church, Spartanburg where he had served as a Deacon. He was a member of the Montgomery Masonic Lodge. Mr. Lanford was survived by his daughter, Mrs. Evelyn Lanford Shehan and several nieces and nephews. His funeral was held at Northview Baptist Church with interment following in the Greenlawn Memorial Gardens.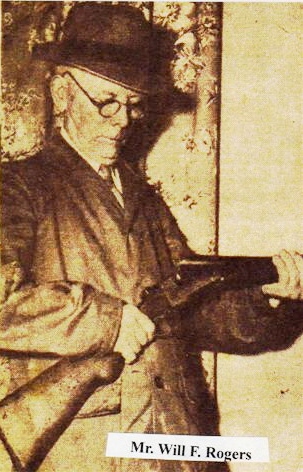 Though William Fletcher Rogers was never Superintendent of Glendale Mills, his life and influence made such an impact in the mill and community, he could have very well been labeled, "the Assistant Super". I feel that it is appropriate to include the story of his life as I knew him, along with the mill Superintendents.
"Mister" Rogers, as he was called by most mill workers and village residents, was the son of William Simpson and Mary Parham Rogers of the Walnut Grove area in Spartanburg county. The story is that at the age of ten, the family moved from their farm to Pacolet Mills, S.C. where Fletcher started working as a doffer in Pacolet Mills for fifteen cents a day. After proving himself as a good productive worker, his salary was raised to thirty cents a day.
Fletcher was promoted to "second hand" at the age of twenty. Moving to various mills, he worked as second hand, overseer and boss spinner in mills in North Carolina and Georgia before coming to Spartanburg. His first venture in Spartanburg was in the grocery business but it was not long before he was back into the textile business as a "Boss" spinner. "Mister" Rogers was 72 when he retired after a total of some 62 years in the textile industry, some 45 years as "Boss" spinner, 28 of those years being spent at Glendale Mills.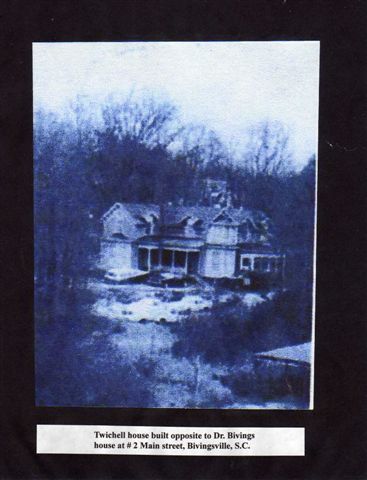 Mr. Roger had married Nannie Cothran and they lived in the original Twitchell house located on Main street in Glendale directly in front of the old mill across the street from the Super's house. They were the proud parents of seven wonderful children. Each of the Roger children was mannerly, courteous and friendly and made their own mark in life. Willie Mae was Teacher/Principal at Glendale Elementary school for some twenty Years. "Ducky", being ordained became the Reverend William F. Rogers, a Methodist Preacher/Missionary. BoBo (BB) became a mill supervisor and invented, developed and patented a number of pieces of textile equipment. Johnny became an accountant in Spartanburg. Fletcher moved to Florida and I lost account of him. The Roger's family was one of the most congenial, loving and caring families to be found anywhere.
In 1928 Mister Rodgers personally bought and operated the first school bus carrying high school students from Glendale to Spartanburg High. It was an old black bus built on a truck chassis. It had bench like seats with large glass windows that could be raised up like a house window for fresh air. The body had straight sides with a flat top. Nothing classic about it but it served it's purpose well for some eight or ten years and the people appreciated "Mister" Rogers for his efforts to make going to high school just a little more convenient for the Glendale students. I believe the fee for riding on the bus was about 25 cents per week. His son, Will, better known as "Ducky" was the first driver. L. Eston Crocker (my brother) and John, (Johnny) Rogers followed "Ducky" as drivers.
Mrs. Nannie C. Rogers predeceased her husband having died in the Spartanburg General Hospital on Thursday September 21, 1941 following a brief illness. After having been a resident of Glendale for many years, she was living on the Country Club road at the time of her death. She had been a member of the Glendale Methodist Church for some 42 years. Her funeral was held at the Glendale Methodist Church on September 22 with interment following in the Greenlawn Memorial Gardens in Spartanburg, S.C. She was survived by two daughters; Mrs. F. D. Murray of Spartanburg, Lt. Commander Marriette Rogers, J.S.N. of Oakland, Calif. Five sons; John B, Paul S. and Bobo Rogers of Spartanburg, F. J. Rogers of Gadsden, Ala. and Rev. W.F. Rogers, Missionary to Brazil. Three sisters and three brothers, ten grandchildren and three great grandchildren.
Mister Rogers died in October 1956. His funeral was held in the Glendale Methodist Church with interment in the Green lawn Memorial Gardens. Mr. and Mrs. Rogers were dear friends of my family and parents, Albert and Ella Crocker.
Bivingsville Cotton Mills, and it's successors, the D. E. Converse Co. and Glendale Mills, were for some 125 years, three of the finest textile mill companies one could ever hope to work for. Some of the finest men and women to be found anywhere, were among those workers.
Recently,
Clarence Crocke
r has added information about other Glendale Mill Superintendents from earlier years. Read this at
More Mill Superintendents
.