John Roland Brown (Pete), Personnel Director
(This story was furnished by
Clarence Crocker
)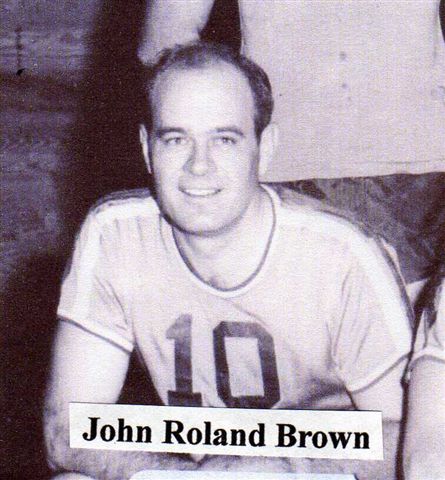 John Roland Brown, the son of B. Fred and Ruth White Brown, was born in Goucher South Carolina and was a native of Cherokee county. "Pete" as he was known, was first employed by Glendale Mills as Athletic Director and was promoted to Personnel Director following the departure of Fred Nash.
Pete was always active in mill and community activities. He was living with his mother at their home on the Pacolet highway just inside the town limits.

Pete was a graduate of Spartanburg Methodist and Wofford College, both being located in Spartanburg. He was active in the sports of both colleges and went on to play base ball with the Red Sock Minor league. He was a member of the Kalpa Alpha Fraternity at Wofford. Leaving Glendale after the merger with Indian Head Mills, Pete was employed as Personnel Director of the newly built Kohler company plant in Spartanburg. He retired from Kohler after some 30 years of service


Pete married Barbara Watson and they were the proud parents of one son, Randy Brown. They had builttheir home on Briarwood Drive in Pacolet where they were living when Pete died. Pete had been a longtime member and leader in the Goucher Baptist Church in Goucher but had joined the MorningsideBaptist Church of Spartanburg after his marriage. He was a veteran of the Army in WWII.

Pete was a likeable "Joe". He was full of fun and frolic. It seemed that everyone knew and liked him. Pete and this writer enjoyed many good times working together. I shall never forget the time when we flew to Atlanta together for some work at our plant in Douglasville Ga. Just as we started to take off at the Greenville/Spartanburg airport, the plane developed engine trouble. The pilot asked everyone to be calm and remain seated. He got the plane stopped at the very end of the runway. Another 50 feet and we would have plunged downward. After checking the instruments and revving up the engines, the pilot said, every thing checks out all right,we will attempt to take off again. Pete looked at me and said, "did you hear what that pilot said,"we will ATTEMPT to take off again". Pete said, "I don't like that word". Well, we made it in to but neither of us was looking forward to returning home on the same plane.

Pete died February 1, 2008 at the age of 83. His obituary printed Sunday, February 3rd, in the Spartanburg Herald and Journal stated that he had died in the Spartanburg Regional Restorative Care following a brief illness. Funeral services were held at Morningside Baptist Church with interment following in the Goucher Baptist Church Cemetery. He was survived by; his wife, Barbara, to whom he had been married for forty seven years, a son, Randy and his wife Pam of Boiling Springs, S.C., a sister, Carolyn Brown of Pacolet, a brother,Bobby Brown and his wife Eugenia of Union, S.C. and one granddaughter, Kristen Brown.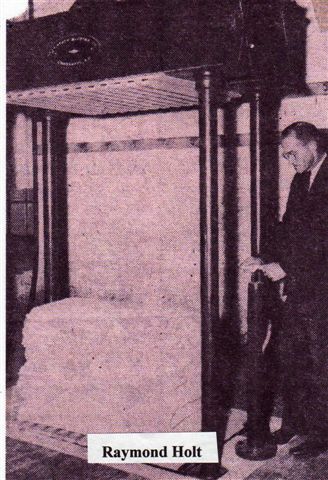 Raymond Holt , Cloth Room Supervisor
William Raymond Holt, "Ray" as he was known, is shown in the 1947 picture above operating the new cloth press which had just been installed as part of the $1,500,000 modernization program announced by Mr. Louis D. deLoach, newly appointed Executive Vice President and General Manager of the mills.

The press was capable of baling about twice as much cloth per week as the old machine it replaced. Operated by a hydraulic pump powered by a 20hp electric motor, the press is capable of baling upward of 60 to 65 bales per day containing some 100,000 yards of cloth. The cloth was baled and shipped to the J. L. Stifel Co. headquarters in Wheeling, W. V. for finishing and printing.

Ray, the son of Roland and Mae Gault Holt was a native son of Glendale. Going to work in the mill at early age, he worked himself up to being Supervisor of the cloth room operations. He married another Glendale native, Anna Thelma Reaves, the daughter of Joseph Malcom and Stella Putman Reaves. They were the proud parents of two children; a daughter, Harriet and a son, Roland M. Holt. To my knowledge Ray and his family never lived outside of Glendale until after he left Glendale when the mill was merged with Indian Head Mills.

Ray and his family were members of the Glendale United Methodist Church while living in Glendale and he was a WW11 army veteran. Raymond's obituary published in the Spartanburg Herald and Journal stated that he had died March 20, 1989 in the Spartanburg Regional Hospital. He was 83 years of age. He had retired from Converse Mills in Converse, South Carolina and was living on South Church Street in Spartanburg at the time of his death. He was survived by his wife and two children; Harriet H. Thompson of Pacolet, South Carolina and Roland M. Holt Sr. of Spartanburg; five grandchildren and five great grandchildren.. Funeral services were held at the Glendale United Methodist Church with interment in the Glendale Cemetery.

Thelma Holt died May 4, 2001 at the age of 92. Living and working at Glendale until the mill closed, she was then employed by Arkwright Mills, Arkwright, South Carolina, from which she retired. Though she had been a member of the Glendale United Methodist Church some 70 years, she had joined the Arkwright Baptist Church a few years before her death. This writer had the pleasure of seeing her there many times while I was serving as Interim Pastor for the Church. Her obituary published in the Spartanburg Herald and Journal on Sunday, May 6, listed her daughter, Harriet Thompson and son, Roland M. Holt Sr. along with five grandchildren and nine great grandchildren as survivors. Funeral services were held at Floyd's Greenlawn Chapel with interment following in the Glendale Cemetery. This writer considered Ray and Thelma Holt dear friends for more than seventy years. No one could have had and enjoyed better friends than Ray and Thelma. I know, for they were my dear friends until the end! They also had two fine children
.