My Corn Family lived in a beautiful valley in Madison County, North Carolina called Grapevine. Grapevine is near Mars Hill, NC. They were my great maternal grandparents, John Lafayette Corn and Charlotte Flynn/Flinn Corn. He was a blacksmith, and probably farmer, when he lived in Grapevine. John's brother William had earlier gone off to find his fortune in a place called Glendale in South Carolina.
John and Charlotte had a growing family of eight. In 1894, while still in Grapevine, tragedy hit their family hard. Their oldest child and two others were stricken with a disease and died. They died on the 9th, 13th and the 27th of August, 1894. Probably this, and the hope for a better life, drove them to leave their home and the families they grew up with. The Coates family, relatives of Charlotte, were also already in the Glendale area. (
See Coates Family.)
The Sams family of Glendale also came from Grapevine.
John, Charlotte, and the five remaining children were met at the depot in Spartanburg, sometime between 1894 and 1904, by members of the Coates (Coats) family. The five children were: Charles, Addie, Robert, Bess and Ada. A story that was told about my grandmother, Addie, was that on the way from Spartanburg to Glendale, someone gave her some "refreshment". By the time she arrived in Glendale she was sitting on the back of the wagon picking a guitar and singing. She was around fifteen years old at that time. With a red face, she would deny the story when anyone teased her about it.
I don't know, exactly, where they first lived in Glendale. I know they lived in a house across from the old school and the house on Broadway Street. There was a man by the name of Jack McKinney, my great grandfather, who owned land a mile or so out of the village, toward Clifton. John Corn contracted with him to buy land and build a house on a loan held by McKinney. In 1904, John and Charlotte were living in the house on Clifton/Glendale Road. John was still working with the Mill and the children, who were old enough, walked to work in the Mill. During the time they were living there, Addie Corn married Andrew McKinney, son of Jack McKinney. Their first child, John Leroy, was born in that house in 1909. Sometime after that date, Jack McKinney foreclosed on John Corn's loan. I think that was when they moved to house in Broadway across from the Wesleyan Methodist Church. Talk about in-law trouble!!
In 1899 and 1900, two more children were born, Sallie and Arthur. They lived only a few months and are buried in the Glendale Cemetery with their parents and sisters, Bess and Ada. (
See Cemeteries
.) Charlotte lived until Dec. of 1910 when she died at the age of 50. Charlotte and John had ten children, five died in infancy and five lived to adulthood. She was a very quite lady and worked hard to care for her family.
I think that John Corn's blacksmith work was in a shop on the Gobbler's Knob side of the river. I have never heard anyone say exactly where that was. I have heard that he also tried having his own shop at some time. He died in 1944 at the age of 85. He was well taken care of by his youngest daughters, Bess and Ada. They never married and worked in the mill and lived there with him until his death. I remember visiting him when he was very old. He didn't talk much except to Bess or my daddy. He set by the heater in a rocking chair and always had a pipe in his mouth. In the summer he set on the swing on the front porch. The pipe still in his mouth, he would watch the Glendale people go by and some would wave or stop to speak to him.
That house on Broadway was a place of delight for all nieces and nephews or any other child that happened to visit. After the death of their parents, Bessie was in charge. She worked in the mill and in later years so did Ada. She kept the bottom drawer of her refrigerator stocked with candy, especially Hershey bars. No child ever left her house without at least one candy bar. Anytime of the day unannounced visitors could find a meal ready as if you were expected. In the sixth grade at the old Glendale School, you were allowed to go home for lunch, if you lived closed enough. Frankie Corn and I would run down the hill to Bessie and Ada's house. We would find lunch and all the candy we wanted.
Another treat for children visiting that house, was a trip to Spot Hopper's Store. This required walking over the bridge with Bessie. First thing was to keep up with her fast walk, she never took a leisurely pace. Then you had to walk on the wooden walk way over the river with some planks missing. I realize that the gaps were small but to my little feet and legs it seemed like hurling myself over rushing water as wide as a canyon. I often had bad dreams about the trips. BUT! At the end of the ordeal was a store of wondrous things. Bessie would say, "Pick out what you want." Such a statement to tell a little child!
Neighbors of the Corn house, who were expecting special company, knew where to find a dessert treat. Ada could make the best cakes you ever tasted. All ingredients were fresh and no electric tools were used to make the cakes. Ada beat the cakes by hand in the old fashion way. My Dad was their favorite nephew and her Orange Slice cake was his favorite. She was the only one who could bake it just right for him.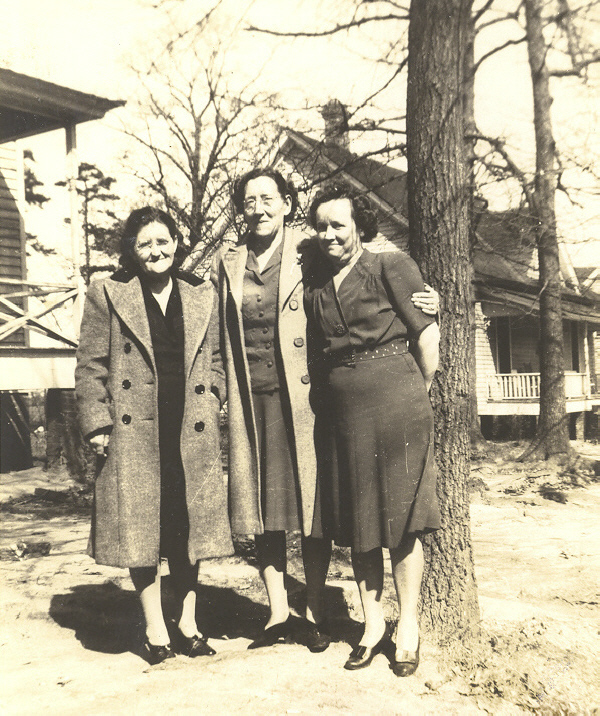 (The three Corn Sister in the 1940's. From the left - Ada Victoria, Addie Lee, and Bessie May.)
The five Corn children were all raised in Glendale and most of them raised their families in or close to Glendale.