The following story about the Mill Store was furnished by Mr. Clarence Crocker, a life long Glendale resident
and manager of the store for several years.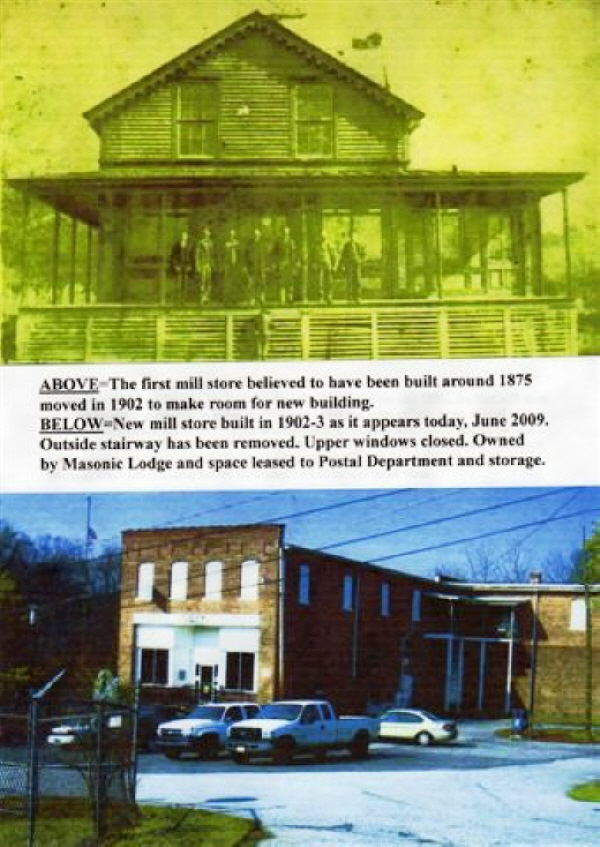 I have no record of the exact date when the first mill store was constructed and put into operation. All indications are that it was built somewhere about 1875 or before.* When I joined Glendale Mills in 1948 as Mill Personnel Consultant and Manager of the Mill store and it concessions, I found a picture of the original store along with D.E. Converse company coins and coupons used as cash for purchases by employees along with some papers which gave some details about the old as well as the new store. It was a large two story wood structure. It not only contained the General Merchandise store but also had space for the Mill Office, Post-Office, and a Doctor's office. The building stood on the location where the present building stands and was moved in 1902 to the place where a metal warehouse stands today, making room for the new store. When the old store was torn down in the thirties, Mr. Charlie Sams, Postmaster, bought the building to build some houses on his place at Cedar Crossing about one mile above Glendale on the Glendale-Clifton road.

* (Footnote; While reading an article in my historical files on Dexter Converse since writing the Glendale Mill Story article, I found a one line reference to Albert Twichell which fixes the date of the store construction much earlier than suggested in this article. It states;
"Mr. A.H. Twichell, brother-in-law to Mr. Converse, came to the mill in 1859 as bookkeeper and clerk in the company store".
This means that the store was constructed during or before 1859.
Clarence Crocker; August 20, 2009)

The new store, built in a L shape, was made of brick and had two floors. The first floor was used entirely for store purposes. The second story was divided into two sections. The front part was used by the store to display merchandise while the right wing had a section for Masons, Woodman and Redman meetings along with a room for the Magistrate. I found quite a few copies of warrants when we cleaned out that section in 1948-49 as well as Woodman paraphernalia. A stairway on the inside led up to the store merchandise section while stairs on the outside of the building led up to the right wing.

One of my fondest memories of the company store goes back to the early thirties when I was just a young boy. Dad got a dinner break from the mill and we would sometimes carry him lunch. We met on the outside stairway on the store. Sometimes dad would go into the store and buy a package of saltines and a can of sardines. Got both for about a nickel. Sometimes he would buy some candy or some other goodie. Boy that was living high on the hog. That was like a Sunday School picnic to me. At that time Mr. Haskel Turner, who had replaced Mr. C.A. Sams when he became Postmaster, was bookkeeper. Mr. Banks Thomas, Mr. Spot Hopper and Mr. Andrew Thomas were clerks. Henry Patton, a black man worked part time as janitor. (Many years later, Henry Patton was the janitor at the last Glendale Elementary School. He was known affectionately by all as "Uncle Henry".)

The Mill store has always carried a complete line of groceries. Barrel molasses, hoop cheese, loose coffee, salt mackerel and plug tobacco were favorites. A moderate line of hardware, clothing, shoes and drugs were maintained. Twice a year, representatives from fine clothiers came to take orders for tailor made suits and coats for both men and women which could be bought on time through the store. Wood and coal were also sold by the store as well as a limited line of animal feed. Cut cord wood was brought to the store by farmers in exchange for groceries or other needs. Someone said that the store could meet the needs of one from the cradle to the grave. They did indeed handle baby clothes and a family could have a casket made through the store or could buy supplies to make one themselves. I disposed of perhaps a hundred or so casket handles, hinges and brass corner knobs used to decorate the caskets. Many families buried their own dead up into the 1920-30s.

Being older than some of its suppliers, Glendale Mill Store had contracts with all major tobacco companies and bought cigarettes, snuff and chewing tobacco directly from the manufacturers. Chewing tobacco was bought in bulk layers packed in square (10X10) wooden boxes. The clerk could cut a nickel, dime or larger plug as the customer wished. It also had contracts with clothiers such as Hanes Underwear and Dickie Work Clothes and others which were binding until the day they closed their doors.

While many believed Mill stores overcharged, they did have to charge extra to cover their loss through credit and pilferage. Ninety percent of the mill store business was on credit and pilferage was always higher in mill stores. For example, I had just returned to my office from a tour through the mill and was combing my hair. Looking into the mirror I saw a person slip a man's hat under their top coat. On another occasion, I was looking into the mirror on the door of the meat case when I saw a person slip a bag of coffee up their coat sleeve. Both were well known persons in the community and it would have been hard to believe they were pilfering had you not witnessed the act. Of course, I faced both and they admitted what they had done but no charges were filed against them. We never charged anyone caught pilfering.

One fact, which not many knew, was that Mill store profits were limited by labor laws and were checked annually by the State Labor department. They could be fined for overcharge and excess profits disbursed to employees if so judged. This did not apply to personal/public owned stores.

During the prime time of Mill stores, there were few to no quick title cash or pay day loan places for persons needing money for emergencies. The mill store did not loan money but when a person needed cash they would often come into the store, charge a pair of shoes, a hat, overalls or cartons of cigarettes to sell to someone at a bargain, for cash.

Mr. Carl Bates, who had replaced Mr. Turner on his retirement, had retired and Nellene Alley was serving as bookkeeper and
Mr. Pettit was still General Manager
when I joined the company. We discontinued Mr. Pettit's service and I hired a new bookkeeper, Howard Lee, with Nellene returning to a clerk's position. As the Company was renovating the Mill and Village, we also renovated the Mill Store. We painted the interior, installed florescent lights, replaced the old pot belly stove with steam heat. Though we never got air conditioning, we used the fans on the heaters to cool in the summer. Removing counters, widening aisles, installing a glass display meat counter, we converted the store to self service, with clerks available to assist the customers in their purchases and charges. We added a paint department, auto tires, batteries, gas and oil and added new rest rooms. In the fall we put in a large line of toys and Christmas goods which could be purchased on a lay-away program.We also carried a small line of furniture such as chairs, dinette sets, etc. We could and would order most anything a customer requested within reason.
Our motto was to serve the customer and would you believe, I preformed a wedding in my office one day. Knowing that I was a Notary, a couple approached me and asked that I marry them. I did, and they went out of my office holding hands as a happily married couple to face a world they had never experienced before.

Though the store had for many years made delivery to the homes by horse and wagon, they had an old badly worn truck in 1948 so we purchased a new pick-up truck. We began a lunch room serving hot and cold sandwiches, etc. at the mill and also a short order cafe in the new gymnasium. The second story was discontinued for store use and was renovated for the Mason Lodge. A Doctor/nurse office was added in the front of the store building once the small office located on Mill street in front of the mill was relocated and converted into a dwelling.
Among our many employees were, Howard and Katherine Lee, Nellene Alley, Bob, Jean, Richard, Donnie and Ronnie Ward. Clyde, Frank and Bud Millwood. Bob and Mary Jo Sams, Forrest Gibson, Johnny Corn, Willene Hughes, Avery Minton, Fred Smith, Dorothy Hyder, Gladys Linburg, Kenneth Quinn, Clair Dillard, Mae Parham, Lucile Cash, Margaret Hatchett, Flora Collins and Madge Billings.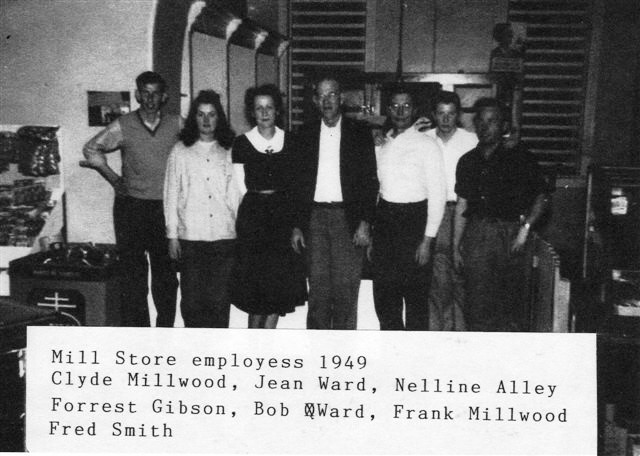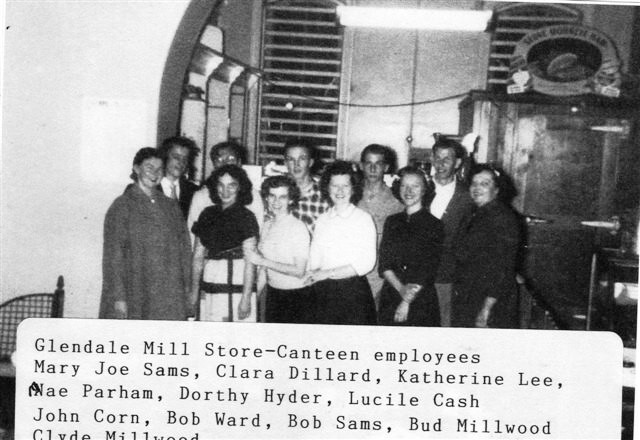 The store closed in 1958 and the building was sold to the Glendale Masonic Lodge. The Second story is used for Lodge and Eastern Star purposes while the first story is occupied by the Post-Office and storage rental space. The outside stairway has been removed with an entrance being added at the back of the building and the inside stairways are used to reach the second floor.