Earthquake Ethel's Roadhouse Jazz Band
Story furnished by Clarence Crocker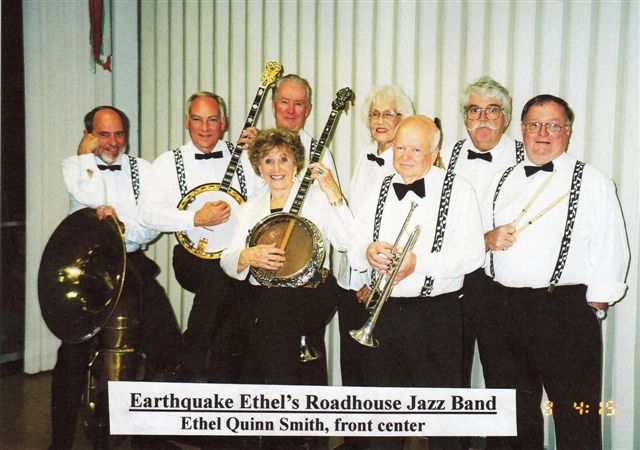 Ethel C. Quinn Smith, who was born in Glendale, S.C. in May 1926, and still has many family ties including a half brother in the community, organized a Dixie jazz band known as "Earthquake Ethel's Roadhouse Jazz Band" some ten years ago in Oregon where she now lives. Playing New Orleans's style jazz, the band consisting of eight members play banjos, tubas, drum, reed, cornet, trombone and also does vocals, has become quite popular over the past few years and are engaged from time to time on Alaskan Cruise Ships.
Ethel also plays the banjo in another local band called "The Rose City Banjoliers". Some 14 members play the banjo, one plays the tuba, one the piano and four ladies play the washboard.

Ethel Conelia Quinn Smith, the daughter of Earnest Daniel and Eva Nellie Crossley Quinn of Glendale, married David Vern Smith in Oregon and they became the parents of five children; Wayne, from David's first marriage, Steven, David Jr. Kenneth, and Daniel Smith. Their son, Wayne, was killed in battle in Vietnam in 1970. David Vern Smith died on September 17, 1996.
Ethel's grandparents, Aaron and Nancy Mary Lindsey Crossley, were the parents of eleven children, all of Glendale. In e-mail which I received from her, Ethel related how well she remembered the times she played on bales of cotton on her grandparent's porch which had been picked from the cotton patch on their farm.
Ethel's father, Earnest Daniel Quinn, the son of Anderson Daniel and Zell Vandiver Quinn was born in Glendale in May of 1896.He was first married to Rosa May Crossley. They were the parents of four children; Ruth May, Robert Lee, James (J.C.)Crossley and Eugene(Gene)Quinn. (Referenced in Glendale Palmetto Ramblers story). Rosa May died from acute appendicitis at the age of 21 in 1921.
After the death of Rosa May, Ernest married her sister Eva Nellie Crossley, born April 6, 1905. They became the parents of seven children; Ethel Conelia, Nellie Margaret, Maybell, Mildred Lavina, Ernest Jr., Elsie May and Daniel Arthur Quinn. Eva Nellie Crossley Quinn died February 15, 1998.
Due to the health of her father, the family had moved to Glencullen, Oregon in 1930 where Ethel remains. Her father, a veteran of WW2, died on December 28, 1986. Ethel was the granddaughter of two prominent Glendale families of the late 1800's and early 1900's.
We are grateful to Ethel for supplying the material for this article.