Major Dick Winters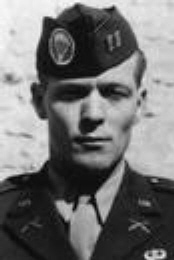 Major Winters tell his story in the very interesting book "Beyond Band of Brothers - The War Memoirs of Major Dick Winters" published by The Berkley Publishing Company. Major Winters grew up in Lancaster County, Pennsylvania. He volunteered for the army on August 25, 1941, only slightly more than three months before Pearl Harbor. By September, he was at Camp Croft to undergo basic training. He was a private and made $21.00 a month. His training battalion finished basic in December and most of them were sent to Panama. However, Major Winters, then Pvt. Winters, was retained at the camp to help train the new draftees and volunteers. He stayed at the camp until April of 1942 when he went to Fort Benning, Georgia to attend Officers Candidate School (OCS).

After OCS, he was commissioned a 2nd Lieutenant and went on to complete Paratrooper Training also at Fort Benning. Before reporting to a Parachute Regiment he again temporarily returned to Camp Croft to train new recruits. However, this was to be his last assignment and this time he was only there for about five weeks. About mid August of 1942, he reported to the 506th Parachute Infantry at Camp Toombs in Toccoa, Georgia.

Major Winters went on to have a remarkable combat career as an officer in the paratroopers. He was discharged on January 22, 1946. In his book, Major Winters describes his duty at Camp Croft as some of his best times in the service.