John Henry McKinney, born on September 23rd, 1903, was the oldest child of Elias Walker (Oss) McKinney and Sally Bates McKinney. He was born on the Webster farm near Zion Hill Baptist Church and he attended the Zion Hill Grammar School. From the Webber farm, the family moved to the Bagwell farm on what is now Pecan Road in Glendale where they were share croppers. This section was in the Pacolet census enumeration district and records show that John Henry's siblings were born in the Pacolet district. John Henry quit school after the eighth grade in order to help his father on the farm.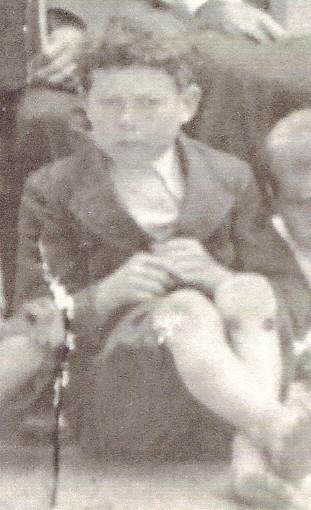 John Henry as a boy.
John Henry began courting Gladys Chaffin who was born on July 24, 1909. They eloped and were married by Preacher J. E. Merchant at Arkwright, South Carolina, on September 9, 1925. The story, told by many in the family, is that they heard that Glady's father, Will Chaffin, was after them. This story proved to be wrong. They fled to Spindale, North Carolina where John Henry had an aunt, Almedia (Bates) Padgett, and they spent the first night of their honeymoon at her home.

When they returned, they lived in a small house near Glendale belonging to Effie Nesbitt Chaffin. The house was believed to have been inherited by Effie Nesbitt Chaffin from her husband, Charles A. Chaffin, Gladys' grandfather. It is believed a daughter, Sarah Elizabeth (Betty) was born there on July 15, 1926. She was the first of eight children born to John Henry and Gladys .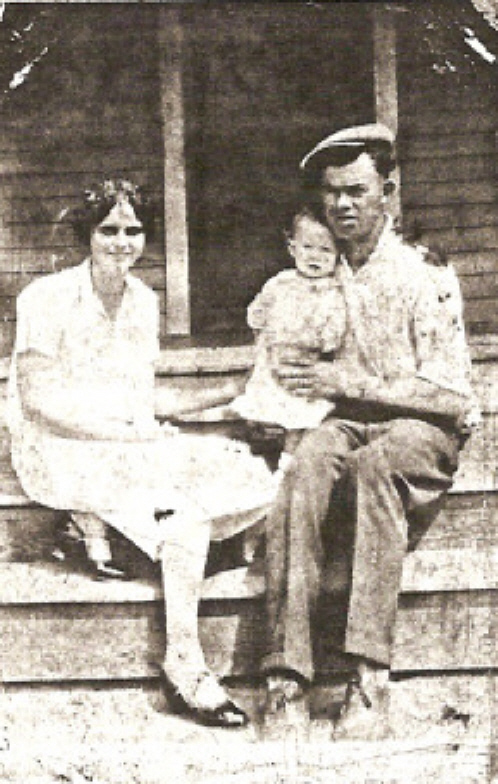 Gladys and John Henry and their first child Sarah Elizabeth (Betty)

They moved several times including share cropping on the farm of the Bagwell's as well as one owned by the brother of John Henry's father, Will and his wife Eva (Steen) McKinney. They also had a short stint in the peach orchard of Luke Godwin at Cannons Camp Ground about 1935. This date is presumed because Billy McKinney (who contributed this story) attended three schools in his first year of his education, e.g. Glendale Grammar, Clifton/Converse Grammar and Cannons Grammar School. After a few short months, he was taken out of school completely and the next school year began again in the first grade at Zion Hill Grammar School.

Billy first attended Glendale Grammar School and it was here that the bathroom and water fountain were in the bottom floor (basement) and the pipes froze and water was going everywhere. No one was allowed to use the facilities and Billy became very thirsty and was crying for water. His sister, Betty, insisted with the powers that be, to allow her to wade through the water and get him a drink.

She came to his rescue again a little later when they were attending Converse/Clifton Grammar School. There was no bus service then, so it was necessary that they walk to and from school. Just below the school there was a shortcut that went through a cow pasture with steps that went up, over and, down the barb wire fence. Just as Betty and Billy were descending the steps, someone threw a firecracker at him and Betty grabbed it and it exploded in her hand giving her a nasty injury. From the earliest times until this day, she has endeavored to keep Billy out of harms way.

While working for George Shea, at Zion Hill, John Henry had a disagreement with him and moved his family to Glendale. They lived in one of Mama Sam's (Atlas Tweed Sam's, 1885 - 1971) little three room houses. John Henry's sister, Estelle, had married into the Sam's family.

John Henry began work on the third shift at the Glendale mill as a "sweeper", which meant he did all the jobs that no else wanted to do. He was very unhappy with this because his heart was in the land and farming. He only stayed on this job about one year. John Henry's daughter, Nancy, remembers being in the third grade at the time, so this would have been about 1942.

From Glendale, the family moved to the Godwin Peach Orchard at Cannon's Camp Ground and John Henry took care of the orchard for several years. After this, he began share cropping with Wade Bennett. Gladys worked for the Dixie Shirt Company as a seamstress during much of this time.

The children of John Henry and Gladys were:

Betty (Sarah Elizabeth)was born May 14, 1926. She married first Jesse Willard Dalton and they had four children, three grandchildren and two great grandchildren. She married second, Oliver Bishop, no children

William H. (Billy) McKinney, October 1, 1928, married Marion Mozsenko, divorced, one child, three grandchildren.

"Nancy" Ellen McKinney, August 22, 1933, married Benjamin Arthur, five children, ten grandchildren and thirteen great grandchildren and one on the way.

Elias "Walker" McKinney, April 12, 1937, married Faye Fowler, two children, two grandchildren.

Donald Dean (Don) McKinney, July 15, 1939, married Jane Fowler, three children, six grandchildren.

Patricia Ann (Trish) McKinney, October 4, 1941, married Kenneth Baughcome, one child, two grandchildren, one great grandchild.

Danny Joe McKinney, born March 27, 1943, died September 4, 1943.

Jo Sandra McKinney, November 26, 1944, married first, Kenneth Emory, divorced, three children, nine grand children, married second, John Abbott, no children.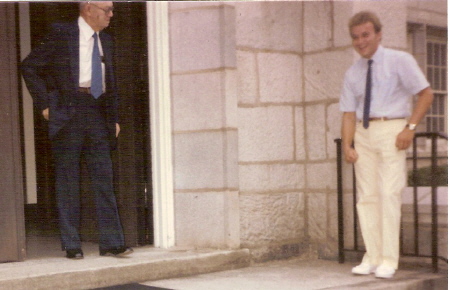 John Henry and his grandson, Dion Emory

Gladys Chaffin McKinney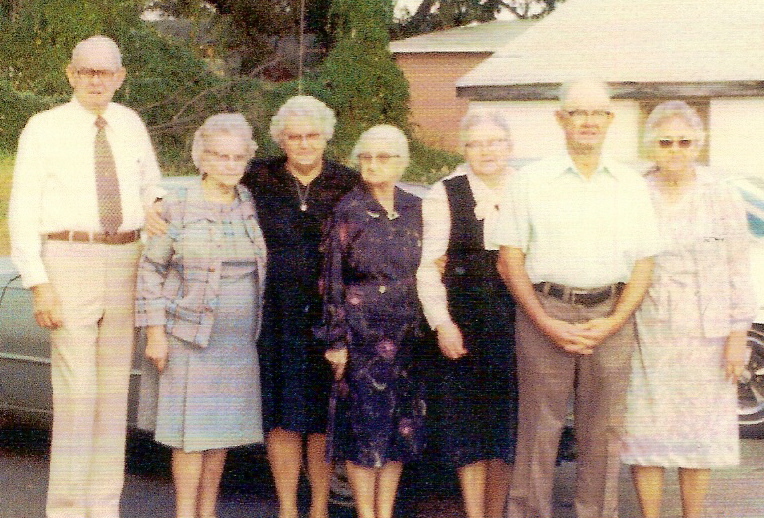 From left: Ernest McKinney -brother of John Henry; Emma Norris McKinney- wife of Albert McKinney, John Henry's uncle; Ebber McKinney Toney - sister of John Henry; Almedia Bates Padgett - John Henry's aunt; Estelle McKinney Sams- sister of John Henry; John Henry and his wife Gladys

John Henry died on June 13, 1989 at the age of 85. Gladys died on June 25, 2005 at the age of 95. Both are buried at Greenlawn Memorial Garden in Spartanburg.

Thanks to William H. (Billy) McKinney for sharing this story.